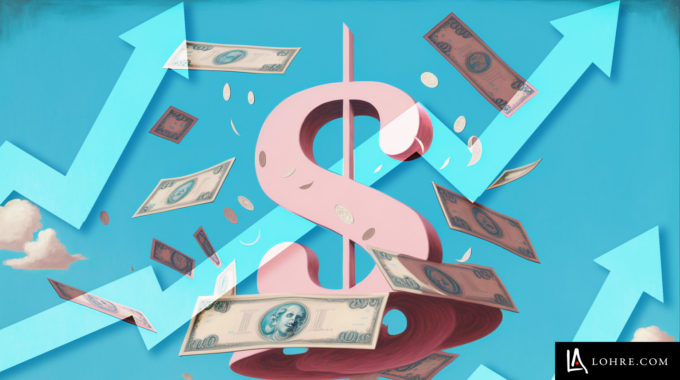 Study: The Benefits of Google Local Shopping Advertising Campaigns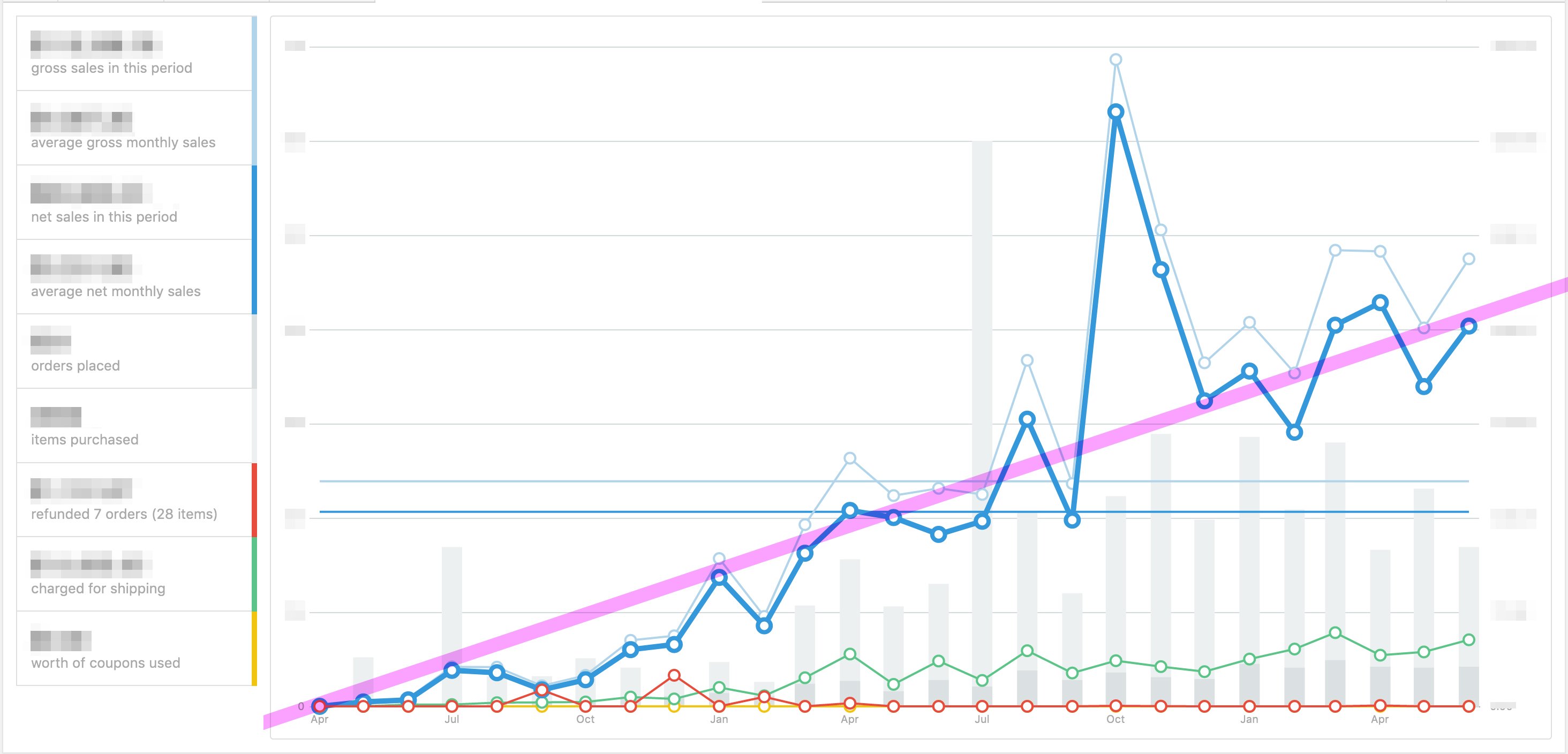 This Google Shopping and Google Local Shopping ads project for TMI (Trailer Marketing, Inc.) began as a standard WordPress build with the setup of Woo-commerce for a trailer and trailer parts retailer in Northern KY with a massive selection of semi-truck trailers and an even larger selection of trailer parts and accessories.
A Welcome New e-Commerce Web Development Challenge
We needed to integrate the new e-commerce functionality with their website's existing role of displaying new and used trailers for sale via TruckPaper.com.
Our goal was to increase their trailer sales online, in-store sales, calls for roadside service, while competing with other online retailers as well. We had to keep in mind that the ideal customers are local truck drivers, as well as truck drivers passing through in need of parts or service.
The first stage of this was to give TMI the basics: A well-crafted site with all of the SEO best practices applied from the very beginning. This included speed, security, and a template solid enough to score exceptionally on our SEO bench-marking utilities.
From there, we refined site content to give them the best organic search advantage we could offer on code and content alone. Knowing that these SEO basics can take a while to pay off, we also built the website to facilitate accurate paid search conversion count.
Making the Very Best Use of Google Adwords, Google Shopping Ads, and Other Google Offerings
Once the payment portal was installed, and all products were imported into their store, we integrated the site into the Google services we'd be using.
Search Console
Analytics
Adwords (this was already present, but without shopping ads)
Google My Business
Google Merchant Center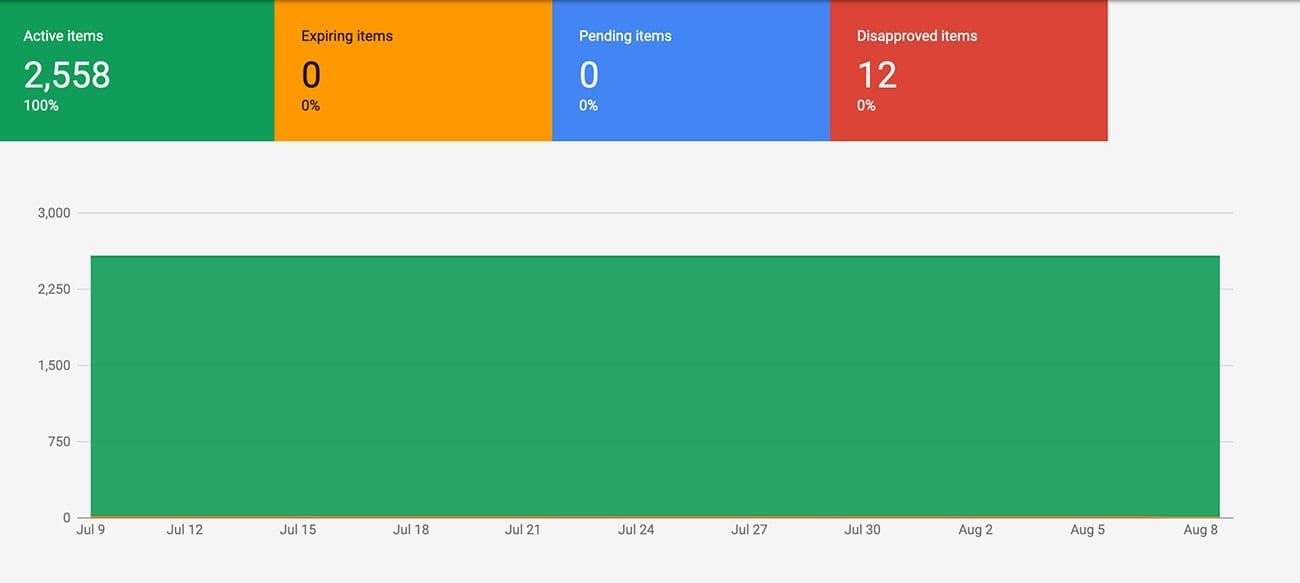 When the feed was streamlined and accepted by Google, we then optimized their product titles and descriptions, from little things like removing ALL CAPS from the titles and descriptions, to fleshing descriptions out for products we could expand quickly. We took care of every error and warning, streamlining to improve ad quality. Higher-quality ads get better results, get shown more often, and often cost significantly less per click, yielding a much-better cost per conversion.
Measuring Return on Investment via Conversions, Conversion Types, and Cost Per Conversion
Our next step was to measure click tracking once the campaign launched. Though clicks on shopping ads are counted in Adwords, they are not necessarily conversions. We set up a conversion for when a customer reaches checkout. We also set up conversions for when a customer clicks TMI's phone number from an ad, and another for when a customer clicks their phone number on their site. We also set up conversions for when a customer who clicked on an ad reaches TMI's listing of new and used trailers. Lastly, we set up a conversion for when an ad click leads to a contact form submission from someone seeking a trailer or looking for service. We set up many of these to measure not only immediate results, but to also count those who clicked, visited, and returned later to buy or contact.
Making Adwords Ads a Bit-More Localized
At this point, we saw great results in ad display, but since local clicks are the best clicks, we refined their ad buying so all ads would bid higher the closer TMI they were, and less according to distance. Shopping ads and ads for trailers were set to show anywhere in the USA, roadside service ads were set to show regionally. This fine-tuning greatly improved their cost per conversion. Better yet, TMI appeared above where they would show in organic search, and above the paid text ads, with pictures of their products, prices, and descriptions.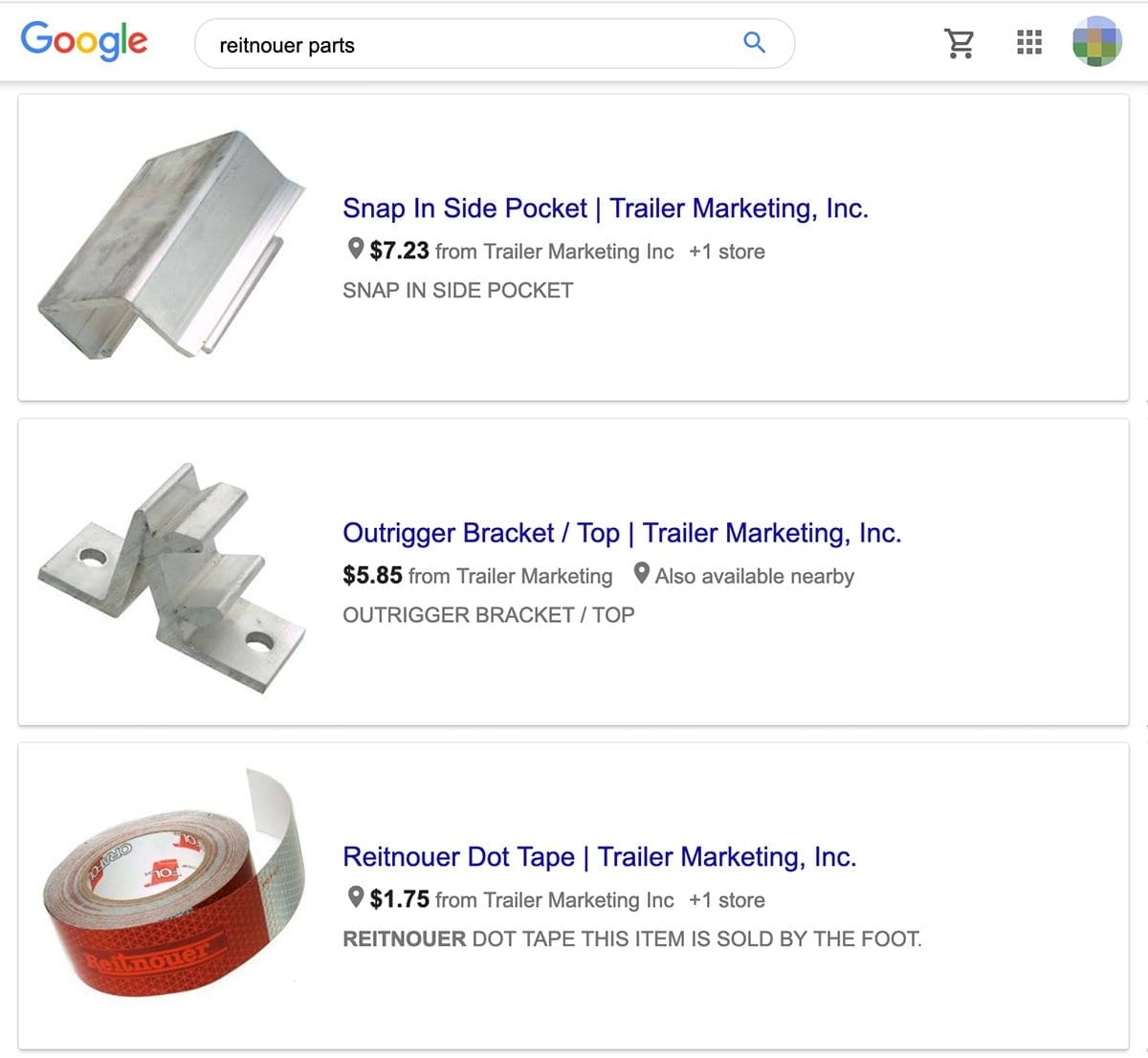 Setting up Actual Local Shopping Ads in Google Adwords
We were now ready to build on TMI's Google Shopping success.
Most people who buy automotive parts and tools, need them today or tomorrow, often "right now". In those cases the seller needs to be within driving distance, and needs to be found when the buyer is searching nearby sellers.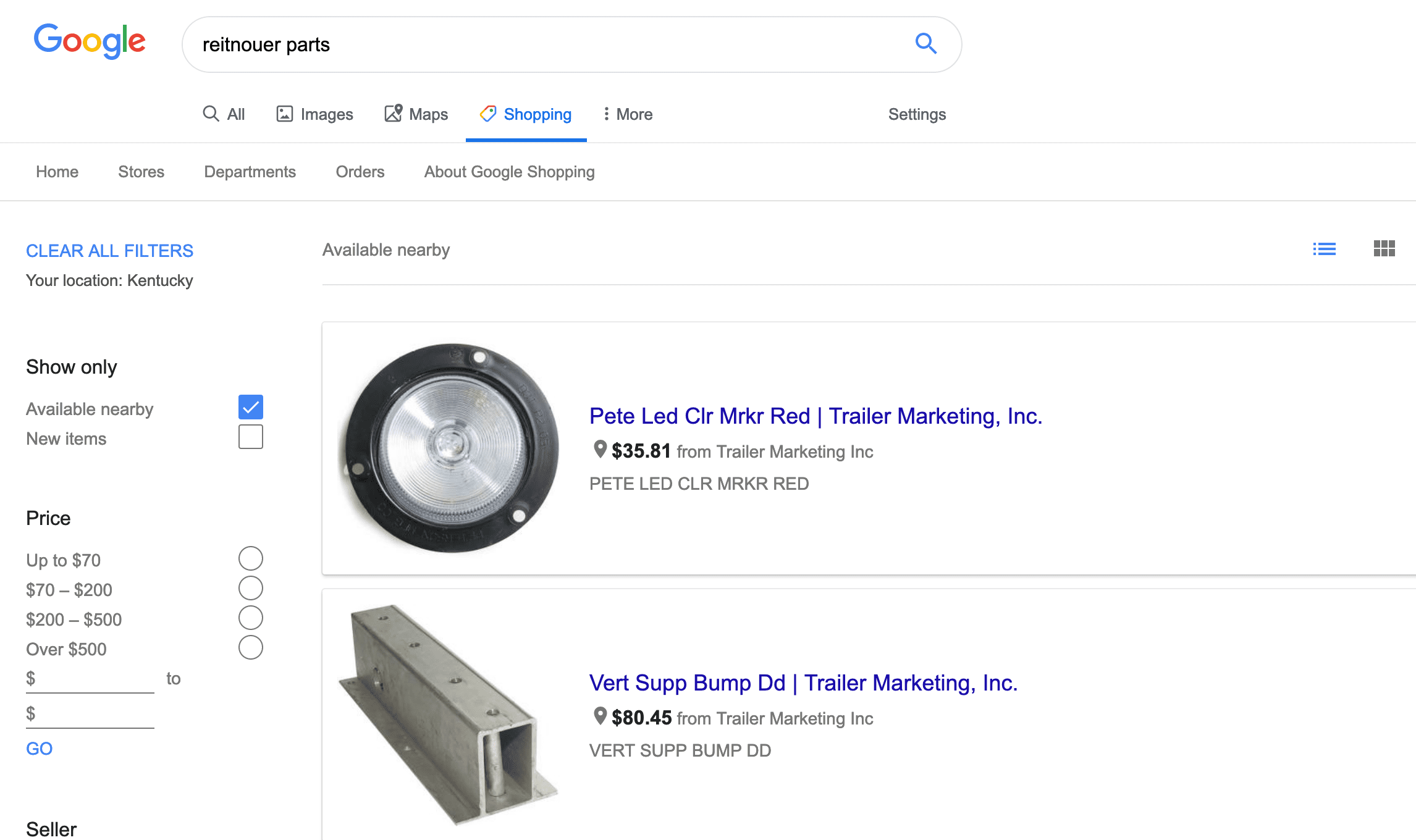 Our biggest goal, for this reason, was to get them onto Google Local Shopping so that anyone passing through with an immediate need for a part would see Trailer Marketing's products first when ticking the "search nearby" box in Google.
This was not as easy as it might seem. In order to get into Google Local Shopping results, you need to meet Google Local Shopping's strict guidelines. One of Google's most important requirements is certainty that customers clicking "available nearby" sees products that are immediately available for pickup.
In order to pass the inventory test, you first need to be able to include your inventory in your feed. When you are ready, Google calls you and asks you to photograph the 43 hex screws, 12 ABS sensors, 7 10-ton hydraulic jacks, and a large number of other products they found in your inventory feed. You have to make sure their SKUs are in those photos, as well as their price tags – all of this has to match with what you have online. Because of this, passing the test requires real-time inventory counts on the website, updating and feeding to Google at least several times a day.
Quickbooks Integration for WooCommerce and Google Shopping/Google Merchant Center
For Google to have accurate, real-time inventory and prices, we needed to connect TMI's website and feed to their warehouse, and we did this through connecting the website to their Quickbooks software. There are a lot of ways to connect to Quickbooks Online, but not so many for connecting to Quickbooks desktop. After a week of research, we chose the best software solution. We coordinated with their technicians and staff to configure the software, and were ready to schedule the test with Google.
After passing this test, TMI had their products showing to people in Northern KY, Southern Indiana, and Southern Ohio, at the very top of the list. They were also the only ones showing on local search for a majority of their fine products.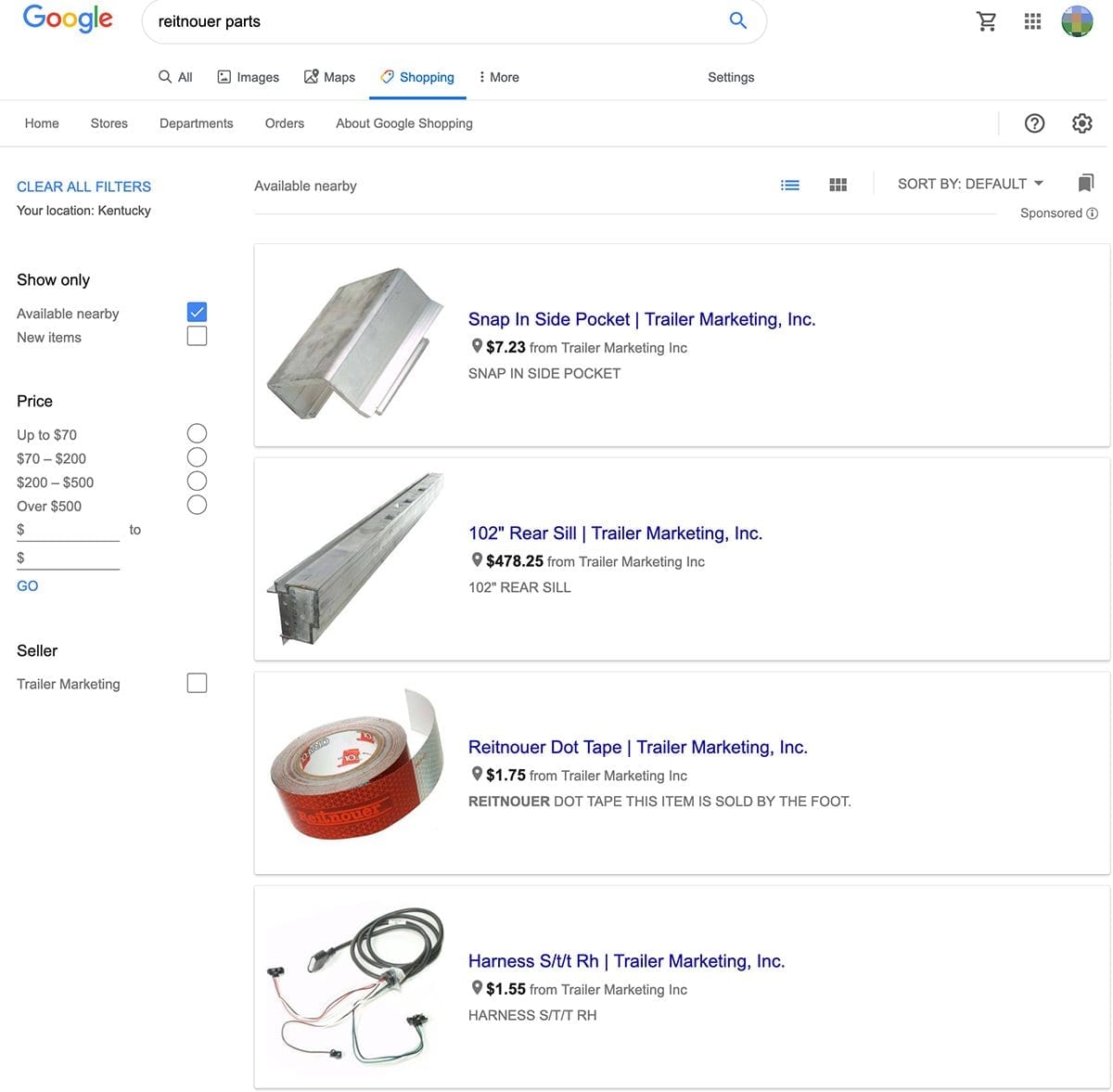 Continual Improvement to Google Adwords Campaigns
We have continued to refine Trailer Marketing's advertising campaign, leading to more sales per month, at lower ad spends, with an improved cost per conversion and return on investment.

We are very thankful for the opportunity to serve Trailer Marketing and to be a part of their success. Below is a testimonial letter of their appreciation.