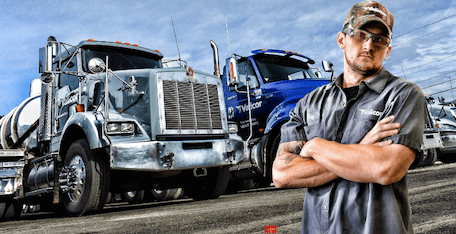 How do you break through the clutter? Literally. That's our problem as we commence a new campaign for mining equipment. Here'a a peek behind the creative process.
Winners of the "Play Ball Raffle" are:
George Mahama, MUC
Dave DiPilla, JWK Technologies
Clark Noland, BarrelMover 5000
Duane Patnode, D-A Lubricant Company
Bill Ganger & Girish Dubey, Star Inc.
Dennis Zeiger, Polydeck Screen
Mark Strader, Phoenix
Rob Dietrich, Halma Holdings
Dan Grabowski
To claim your two tickets please leave a reply or contact Chuck Lohre, cell 513-260-9025, [email protected]. Thanks for playing. 

At first, we thought some great photography of their employees would stop everyone on the page. Photos of people are always effective in that respect. Even if the person's face is no larger than a postage stamp, eye-tracking software proves it makes viewers stop and look. But we're not the only creatives to note that — it's why there are (reliably) a dozen or so such ads in every industry pub. Testimonials from customers are better but don't hold your breath if your under deadline. Photo courtesy Art Dickinson Photography.