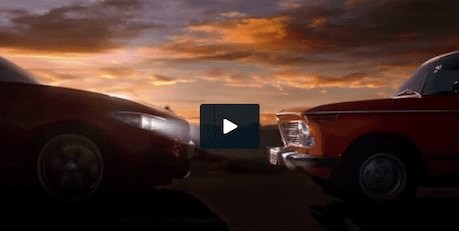 Is Natalie Findlay's Off and On" a Good Industrial Marketing Idea?"
Like many in the US, we'd never heard of Natalie Findlay until we just couldn't stand it anymore and Googled, "BMW Ad song." She's a "20 something" from Manchester England. A town with a strong music scene that has helped start her career by fronting for some more well know bands. But the kick start in the US came from the BMW commercial showing the old BMW passing the baton to the young BMW2. Did I go out and by a BMW? No. Did I always like BMWs anyway? Yes. Our earlier life buds, raced them and their aircraft history endeared them to us. We respect them. And treasure their tag line, "Drivers wanted." Or was that VW? Just goes to show matching a certain advertisement with sales is nearly impossible. The song got a lot of interest in the US, but we don't think for the market they need. But as Coke will tell you, get them when they are young, and you will have them for life. Considering the time and effort we have spent on this blog post, we'd say, "Yes, Using Natalie Findlay's music is a good industrial marketing idea."
BMW is betting a lot on the Olympics, introducing their new electric i8. In that ad, a young man sneaks his Dad's i8 out for a late night joy ride to lovers lane. Dad's notified by his phone when his son plugs it back in, in the wee hours. We're struggling to keep our 2000 Honda Insight, the highest performing car in the world for four years after it was built, running by conditioning the battery with a sophisticated automated charger by 99MPG. Just goes to show that the electronic age will require much higher math and science skills as illustrated on an NPR story this morning.
Do we have any examples of ad campaigns that drove sales? This ad sold a $122,580 glider. It's for an Alexander Schleicher ASG 29 racing sailplane sold by our client Eastern Sailplane. These gliders are initially used for racing, and the chart illustrates the performance curve you will experience racing around a 200 mile triangle course in a few hours. Of course, Alexander Schleicher's designer Michael Greiner can take some of the credit, not unlike Ferrari or Porsche and even Ford, you win and sales will come.
We're in the technical sales business, but that doesn't mean what we do isn't cool. In fact, if you do both you will win at industrial sales. You just need a client that will let you turn some heads and make some nerves tingle. It doesn't come around that often but when it does, stick to images that are emotional, convey the number one benefit about your product and demand action. The BMW ads do all three. In conclusion, we are working on a campaign selling sustainability to attendees at the Cincinnati Home & Garden Show. Recent marketing guidelines from Kirei suggests not selling the sustainable marketing qualities of the material, just focus on how cool it looks. What do you think? Here are the poster design and one of the small signs we are considering for the show.
---
If you liked this post, you would like, "How to Create Emotional Marketing Communications."