Why should my industrial business focus on digital marketing?
Digital marketing is a modern marketing approach essential to improving ROI (return on investment) for marketing spend. Digital advertising for industrial marketing utilizes digital channels such as social media, search engines, email, video, and websites to promote products and services. The use of digital advertising in industrial marketing can be highly beneficial for several reasons:
Increased reach: Digital marketing allows industrial businesses to reach a more extensive but more-focused audience than traditional marketing methods. Digital marketing benefits industrial companies looking to expand their customer base or extend new services to existing customers.
Cost-effective: Digital marketing can be less expensive than traditional marketing methods such as print advertising, television commercials, and billboards. However, an excellent digital marketing strategy can mesh effectively with these marketing strategies and multiply their effectiveness.
Measurable results: Skilled digital marketing provides detailed analytics that allow businesses to track the effectiveness of their marketing efforts and make adjustments as needed.
Improved targeting: Effective digital marketing allows businesses to target specific demographics, industries, and companies, increasing the likelihood of reaching the right audience.
Enhanced customer engagement: Digital marketing helps businesses build stronger customer relationships through targeted communications and personalized messaging.
In summary, digital marketing is an effective way for industrial businesses to reach a wider audience, engage with customers, and achieve measurable results while staying cost-effective.
What are 11 essential parts of a great digital marketing strategy?
Research: A great marketing company will research your business, your industry, your products, and your customers before anything else. A GREAT industrial marketing company (Lohre) already knows many of these things. Their knowledge will save you time, payroll, and advertising spend with their understanding of your industry, related industries, related publications, your products, your company, and your competition.
Website Design and Development: A well-designed website is the foundation of successful digital marketing campaigns for any industrial business. It should be mobile-friendly, easy to navigate, and optimized for search engines.
Search Engine Optimization (SEO): SEO improves your company's rank in search engine results pages (SERPs). Industrial businesses need to use the right content keywords, meta descriptions, and titles to improve their search engine ranking. Technical SEO also requires improvements to website performance. Great marketing and excellent content writing drive this home by fostering inbound links, an essential part of SEO that is often overlooked.
Pay-Per-Click (PPC) Advertising: PPC advertising is an effective way to get immediate results from digital marketing. It involves paying for clicks on ads that appear on search engine results pages or other websites.
Content Marketing: Content marketing involves creating valuable and relevant content to attract and engage a target audience. Industrial businesses can use blog posts, videos, infographics, and whitepapers to showcase their expertise and generate leads.
Social Media Marketing: Social media marketing is how you promote your industrial business on social media platforms like LinkedIn, Twitter, and Facebook. Industrial companies can use social media to engage with customers, build brand awareness, and drive website traffic.
Email Marketing: Email marketing involves sending promotional messages to customers and prospects via email. Industrial businesses can use email marketing to nurture leads, promote products and services, and stay in touch with customers.
Analytics and Reporting: Industrial businesses need to use analytics tools to track the performance of their digital marketing campaigns. Good reporting includes tracking website traffic, monitoring search placement against competitors, assessing social media engagement, optimizing ad campaigns, and paying close attention to email open rates.
User Experience: Industrial businesses must optimize their digital marketing for all devices. An excellent industrial website, landing page, application, social media profile, or email should be as appealing as it is easy to use, and all features and functions should be well-integrated.
Marketing Automation: Marketing automation uses software to automate repetitive marketing tasks, allowing industrial businesses to focus on other aspects of their business. Digital marketing can automate sending emails and making social media posts, but it can also customize users' experience. The best marketing automation also takes the work out of qualifying leads and customer relationship management.
Online Reputation Management: Your industrial business needs someone to monitor and manage online reviews, mentions, and comments about your company. Responding to negative reviews and comments is essential to protect your online reputation. Fostering good reviews is another important part of reputation management. When well-managed, these together make your company appealing to potential customers.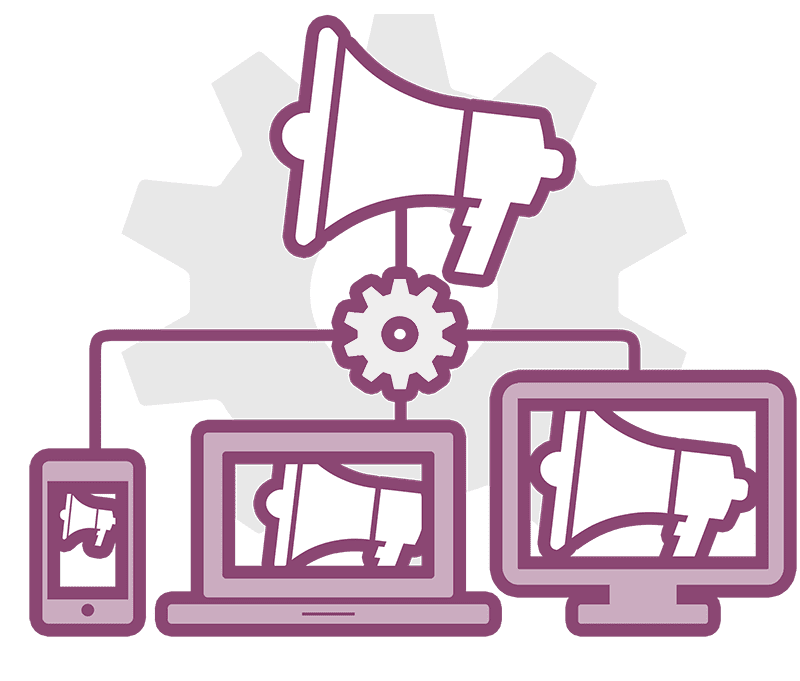 Focused, Personal, Stable Industrial Relationships
We don't serve hundreds of types of clients or even hundreds of clients. We serve a very select group of industrial companies and only a handful of non-competing industrial companies from each industry. You will not take a back seat to a competitor, or have to navigate through tiers of customer service to reach your dedicated industrial advertising specialist.
Partner with Industrial Marketing Specialists
Now that we have covered the how, the what, and the why when it comes to digital advertising for industrial businesses, let us help you to do your very best at it.
Partner with an all-industrial marketing firm that knows your industry and its companies. Lohre & Associates have been in marketing for nearly 90 years, and we have routinely evolved alongside the marketing needs of our B2B and, specifically, industrial business clients.
Call us at (513) 463-3429 or contact us online to discuss your industrial marketing strategy and for a free assessment of your current digital advertising needs.
Additional Creative Services
AS YOU CAN SEE, WE'RE REALLY GOOD AT WHAT WE DO
CALL US FOR A QUOTE