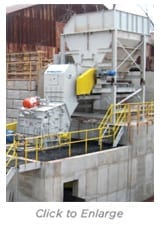 Ten Times More Response! Construction Equipment Marketing
This editorial contribution by our client Stedman Machine Company received nearly ten times the response from a regular banner ad. Editorial always out performs display advertising. In fact editorial is marketing, display ads just give you a chance to spread your wings of knowledge.

 steps to analyzing your size reduction needs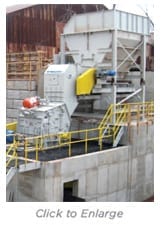 Size reduction is simply putting energy into large pieces of material to make them smaller. But as basic as this sounds, selecting appropriate equipment for an application isn't always easy. The machinery to do the job is available in hundreds of types — some simple, some complex. Why all the variety? One size doesn't fit all: No two crushing applications are exactly alike.
Following a three-step process — analyzing your size reduction needs, narrowing your equipment choices, and running crushing tests with your material — will help you find a crusher that can achieve top product quality and boost your bottom line.

Analyzing your size reduction needs
Your supplier partner needs several pieces of information about your application, starting with your size reduction requirements. Begin by answering these five questions:
What raw material am I crushing?
What is the raw material's particle size range?
What is the material's moisture content range?
What production rate (in pounds per hour, tons per hour, or kilograms per hour) do I want the equipment to achieve?
What particle size range must the final product have?
Next, think about less obvious factors that can significantly affect your crusher choice, such as:
Consider how the new machine will affect your process's total energy requirement. (For instance, can the crusher you're considering yield final product with a narrower size range that requires less downstream processing?)
Consider how the new crusher's operating costs will stack up against its acquisition cost.
Determine how the particle shape achieved by the new crusher will affect your product quality and your process's operating costs. (For instance, if your application has a downstream extrusion step, choosing a crusher that yields particles without sharp edges will prevent damage to the extruder die, resulting in lower die-replacement costs and better operating efficiency.)
If you're currently using more than one size reduction machine to achieve your final particle size, consider whether you can find one machine that can do the entire job, saving money and improving your process efficiency.

Narrowing your equipment choices
Once you've analyzed your needs, you're ready to determine what equipment types are candidates for your application.
Most machines are limited by the maximum particle size they can accept. If the machine you're considering can't handle your raw material's largest particle size, you may need to select a larger model or a machine that operates in a completely different way to handle the maximum particle size at your desired production rate. This is where working with a supplier that offers a wide range of equipment can be especially helpful.
The reduction ratio a machine can achieve — that is, the ratio of the raw material's particle size to the final product's particle size — also varies by the equipment type. For instance, roll crushers and jaw crushers typically achieve a 2-to-1 reduction ratio, vertical shaft impactors 10-to-1, cage mills and hammermills 20-to-1, and ball mills 200-to-1. Which one is right for your application? The answer won't be clear until you complete the next step — testing your material in size reduction equipment.

Running crushing tests with your material
Your crushing requirements are unique, and testing your material in the equipment you're considering is the only way to confirm that you're making the right decision. Testing also yields important information about the size reduction process and will help you determine the equipment's cost of ownership.
For the tests, you'll need to ship about 800 to 1,200 pounds of your material to the supplier's test lab. Witnessing the tests in person is best, but if you can't visit the lab, the lab staff typically can provide a video of the tests. The supplier will charge a nominal fee for the tests. In return, you'll tap into the supplier's expertise in reducing hundreds of raw materials, in various equipment types, to meet unique product specs.
Data from the tests will include the particle size distributions of your material before and after crushing, the material's moisture content (which changes during crushing, affecting the material's handling characteristics), the power consumed per unit of material processed (such as kilowatt per ton), and the estimated wear cost (in terms of how frequently metal parts must be replaced). The tests will also determine how well the equipment handles your material's other characteristics, such as friability, abrasiveness, plasticity, and heat-sensitivity.