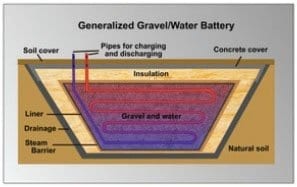 Business to Business Marketing, Construction Equipment Marketing, Industrial Advertising, Industrial Branding, Industrial Marketing, Industrial Marketing Content, Industrial Marketing Handbook, Marketing, Marketing Communications, Mining Equipment Marketing, Process Equipment Marketing, Process Equipment Marketing News Release
Gravel Batteries – As green energy proponents address its intermittent nature, good old-fashioned gravel may provide a solution.

Renewable energy is becoming more and more popular these days. We recently jumped on the band wagon and had solar panels installed on our home in Anthem, Ariz. On average, we have 299 sunny days per year, so it is a pretty darn good investment.
The down side to energy from solar panels and wind turbines is their on-off nature. When the wind stops blowing or the sun stops shining, the energy production stops. That is not a problem for us, because we are still connected to the grid and can get power even when the sun doesn't shine. But believe me — they know how to charge rate payers who have solar!