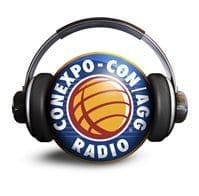 The Industrial Marketing Trade Show Dance at CONEXPO 2017
Everyone in the industrial market knows that the CONEXPO-CONAGG 2017 show is opening Tuesday March 7. The conference will be in Las Vegas from March 7-11 and is expecting over 125,000 attendees and 2,400 exhibitors. In terms of a conference, that is huge and provides quite the opportunity for any business.
The CONEXPO got its start here in Ohio in 1909, debuting as a 'Road Show.' The early exhibitors prided themselves on displaying 'amazing new devices' that could do the work of 15 horses. It continued to grow and did so at an unprecedented rate during the construction boom after World War II. In the 1970's it opened its doors to the international community, as well as, the CON/AGG show, which also had began in the early 1900's; by combining shows and creating CONEXPO-CON/AGG, both attendees and exhibitors alike we able to experience all the emerging products, equipment, and services in one place, maximizing time, money, and educational opportunities of the construction and industrial industries.
With so many people and exhibitions attending this show, most industrial companies recognize the importance of marketing their product or service. They know that this is an opportunity to reach other businesses, consumers, and influential individuals in the industry, which is why having a solid team, effective communication, and a game plan are so important for a trade show of this caliber.
Preparing for a Trade Show
This is the first step required for a good trade show exhibit. Everyone must be on the same page about what is required from him or her and how to, not just execute it, but to do so properly. This requires effective communication, clear guidelines, and stringent implementation.
Preparation for the show includes everything from how your booth will look to with whom you staff it; both should be of high quality.
Too many times have I been to a trade show that individuals are on their phones, talking to each other, or eating food when they should be grabbing the attention of the people passing by. This typically happens because stringent rules weren't put into place to prevent such things from happening. Allowing such behavior to occur will only hurt the company and the reputations of those involved; possibly affecting your credibility and professionalism. Be sure to have educated employees and sales staff on hand who are dedicated to success and to achieving the purpose of the trade show: to gather leads and to make connections.
This is where effective communication comes into play. Let staffers know that they are there for a purpose and that purpose is to generate leads, not to eat McDonald's in the back of the booth around noon. The typical trade booth staff will walk away from training with a good pitch to throw at people passing by, but an excellent staff will walk away knowing an immense amount of knowledge on the product as well as having a clear objective to what they are responsible for doing. Some booths include people who just catch the attention and move interested individuals to sales reps who know more about the product and while the assembly line is beneficial and provides an organized mechanism for all booth employees, reminding employees that everyone has the same objective helps keep everyone on track and can help prevent a lack of involvement from employees. Some companies sometimes implement contests, hoping to motivate employees and sales reps alike to drive in business.
Creating an Inviting Trade Show Booth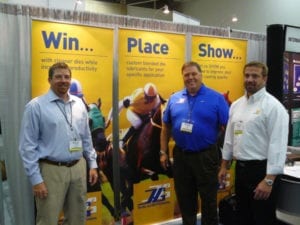 You want to make sure your booth looks welcoming, interesting, and clean. You don't want something that is too 'homey,' people won't take you seriously, but you also don't want a both that results in looking so technological or industrial that a layperson can't understand it and are too intimidated to stop by or don't find it interesting. Having a well-balanced booth and a friendly staff of people who can clearly and concisely explain what you have to offer is the best route to go here.
Providing information, good information, is crucial to the success of your booth. Pamphlets are great and are very popular at trade shows, but how many of those make it to the plane ride home? Not many, most natives to the city hosting the trade show will tell you that most of them end up littering the streets once all visitors have left. This is where educated employees matter, reinforcing the point above. According to Skyline Exhibits 5 common Pitfalls to Trade Show Marketing blog, offering to take someone's email address or telephone number on the spot and stating that they probably have enough to carry without you adding to their load can be a very effective means of gathering individuals' information. Using technology, like a tablet for instance, in this situation can maximize your outreach. People may not have one of your pamphlets to throw away at the airport, but they will be able to check the email you sent or listen to the voicemail you left on the plane ride home; already making for a more personal experience and your booth, and more importantly your product, will stick out in their mind.
Effective Marketing of Your Trade Show Attendance
Standing out at a trade show is important and learning how can be difficult. According to Susan Friedmann, the Trade Show Coach there is more than one way to do this. One of the best strategies is having your company/client try and align new product announcements and trade shows together. Having a new product to premier at a trade show is a good way to get some press prior to the show. We have had a couple of clients take this route for the CON/AGG conference and we have been shooting out press releases and public relations left and right. Most publications, whether print or electronic, are willing to take such information and publish it. They too recognize the enormity of the show and know that many people are reading publications to 'be ahead of the game' and to know what to expect from the trade show exhibits. Also be aware that most publications need this information well in advance, so having your own deadlines to accomplish the media announcements is necessary.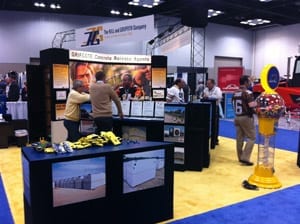 Utilize social media. Make it known on Twitter, Facebook, LinkedIn, Google+, etc. that you will be there and that you have something new rolling out. This also will build an interest with your followers who aren't going to the show itself and could even prompt them to come along too.
Schedule a press conference if possible. Many media outlets, local and international, will be covering the convention; such large conventions can get a lot of coverage time via the media and having a press conference about your new product or your attendance can really increase your popularity at the show; not to mention the publicity involved with media coverage.
Learning the trade show dance can be difficult, especially when the convention/show itself has been around for over one hundred years; that makes for an evolution of dance. But, surrounding yourself with a positive, well-motivated team who is willing to work hard, combined with effective marketing and a welcoming booth should create a successful experience.
See you there!