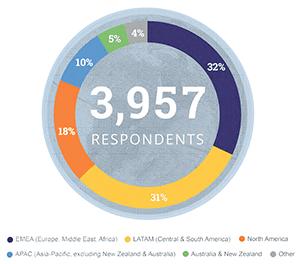 What is the State of Industrial Marketing? The State of Inbound Report.
Welcome to the seventh annual State of Inbound report. We're glad you're here.
Whether this is your first time reading this report, your seventh time, or you just arrived here on a whim, you're bound to have some questions.
"What is State of Inbound ?"
Every year, HubSpot surveys thousands of the world's foremost marketers and salespeople — HubSpot customers and non-customers alike. We poll them on their most pressing priorities, the challenges they face, and the tactics they've used to meet those challenges head-on. We track our respondents' quantitative answers, collate and consolidate their anecdotal answers, and put the polished result into a master report: State of Inbound.
For the last seven years, the report has tracked the practice and adoption of "inbound marketing." Instead of blasting out interruptive ads and trying to pull people to your company, inbound marketing uses helpful content to attract visitors and get them to engage of their own volition.
Last year, we added sales to the mix to provide a more complete view into the entire lead-to-customer lifecycle. Our research found that salespeople struggle with a lack of information about their leads and manual data entry — two challenges that necessarily reduce their effectiveness at converting leads to customers. Just like Marketing's lead generation is of prime interest to salespeople, marketers would be wise to take the problems sapping Sales' efficacy to heart.
Considering that aligning marketing and sales practices is critically important to a company's success, this report contains both marketing- and sales-specific results — as well as areas where the two intersect.
"Is anything different from last year's report?"
Yes, a lot is different in this year's report. We asked some of the same questions (for trending data) and several new ones (to keep pace with emerging marketing trends).
The biggest change is that 2015's report doesn't cover the emergence of inbound marketing as it has in past years — the principles are now well-entrenched. Rather, this year's data begins to reveal why leaders lead and laggards lag. You'll also find trending sales data that reveals how salespeople's pressing challenges and priorities have shifted since last year, in addition to attitudes toward buzzworthy sales practices such as social selling.
We've also improved our entire process since 2014. Thanks to rigorous QA, we've ensured that this year's data is more representative of the marketing and sales industries as a whole. First, we dug deeper into segmenting different marketing and sales tactics on a more granular level. Additionally, we expanded our reach globally, engaging audiences in 150 countries across six international regions.
Who We Talked To:
The State of Inbound survey has always been comprehensive, but this year's report is truly a global document, with more than 150 countries represented. The majority of our nearly 4,000 respondents are marketers who work for B2B SMBs, and only one-third have an affiliation with HubSpot. Half of the companies represented generate under $1M a year in revenue, and the other half generate over $1M.
We hope this article can serve as a roadmap for your organization's entire approach to inbound marketing and sales in 2016. All data was gathered on the back half of 2015 to give as accurate a representation of the current industry landscape as possible.