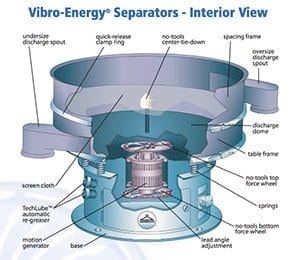 LinkedIn Groups are a Perfect Opportunity to Promote Your Process Equipment Marketing
(Set up a LinkedIn user group for your industry and populate it with educational material and application examples once a week. Every other week post the discussion as an announcement. Keep it strictly educational and don't compare your products to another. Advertise the group with LinkedIn small photo and text ads to your audience during the work week. It might only be 8,000 worldwide but it is your audience. This post came from SWECO: Screeners, Sifters, Separators. )
Carbon Products Manufacturer Triples Production Rate, Upgrades Screening Efficiency
Problem:
A carbon products manufacturer out of Florida, USA, produces granular activated carbon from charcoal. This material is used for purification in the water, petroleum and alcohol industries. The carbon substance is activated in the processing flow. The firm also processes powdered activated carbon used in chemical, water, oil and fat, drug and sugar industries. The activated carbon is used for purification, decolorization, refining, recovery as well as odor and taste removal. The company sought the most efficient screening method to increase production rate of their activated carbon materials. Screening specifications called for various mesh sized material. The screening device selected must screen several fractions of carbon material at a high production rate.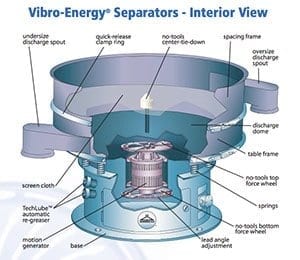 Solution:
The manufacturer called in SWECO District Engineers to perform screening tests, using an 18" diameter SWECO Vibrating Screen Separator. This small unit, with less than 2 square feet of screening area, immediately screened more material than a conventional screen with 20 square feet of screening area. A more efficient separation was also obtained in using the SWECO Separator. As a result of the test runs, the company installed a 48" diameter SWECO Separator. This three-deck unit is equipped with screen cloths of various mesh sizes – according to product sizes needed – and a special dust cover.
Results:
After installation of this Separator, it was found that a flow of 2700 lbs. per hour could be produced. Production specifications called for 600 lbs. per hour, which was easily handled. If the company wishes to increase rates, they have a screening machine that can handle the job. A conventional rectangular screening device produces only 200 lbs. per hour of this carbon material.
Learn more at the SWECO Technical Library http://www.sweco.com/technical-library.aspx
See SWECO at the 2016 International Production & Processing Expo (IPPE).