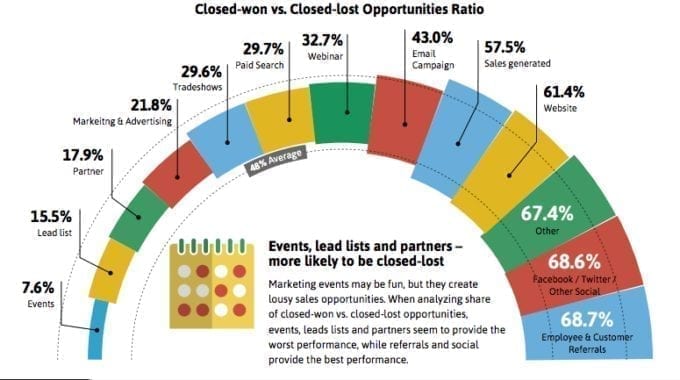 B2B Sales Conversion Rates – Benchmark Research Finds Surprises
Implisit analyzed the pipelines of hundreds of companies to discover the channels that deliver the highest conversion rate. Are you focusing on the right channels?
Nov 20, 2014 By Gilad Raichshtain in Analytics, Cloud, Featured, Sales
B2B Sales Conversion Rates' processes are complex, with myriad stakeholders and prolonged decision cycles. That's why it's hard to know from the top of your head what's working and what's not. Fortunately, we have Salesforce, where we can track lead sources all the way to closing the deal.
At Implisit, we analyzed anonymous aggregated lead data from hundreds of companies to see what works and what doesn't. Results are surprising: some channels are better at creating opportunities, but those opportunities are less likely to close; in other channels, it's harder to create opportunities, but these opportunities are more likely to close.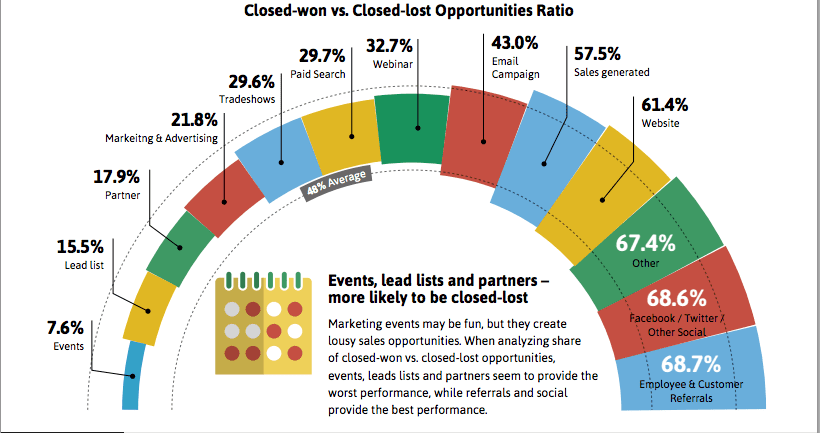 Conversion Rate:
Lead to opportunity—13%; Opportunity to deal—6%
Overall, our analysis shows that on average, 13% of leads convert to opportunities and the average time for conversion is 84 days. Conversion rate from opportunity to deal is even lower — only 6% of opportunities convert to deals, but it takes only 18 days, on average, to convert.
The most important metric, leads to deal, shows one clear winner. 3.6% of employee and customer referrals convert to deals, higher than any other channel. This is followed by the company website and social. Among the worst performing channels are lead lists, events and email campaigns with less than 0.1% lead to deal conversion rate.
Another important insight is that employee and customer referrals, company websites and social also tend to have the fastest progression from lead to deal. It takes only 40 days, on average, to convert a lead coming from social to a deal. Website leads take around 75 days, and referrals take 97 days to convert. Lead lists, email campaigns trade shows, and webinars have the lowest conversion rate and the highest lead-time.
Webinars: only 2.5% opportunity to deal conversion rate
When we break the conversion rate into two parts — leads to opportunities and opportunities to deals — we see a few surprises. Webinars, for example, have the third-highest conversion rate from lead to opportunity (17.8%); however, it has one of the lowest conversion rates from opportunity to deal (only 2.5%). The company website has the highest conversion rate from lead to opportunity (31.3%), probably because sales reps are very optimistic when inbound inquiries are coming from the website. However, only 5% of website opportunities actually end up as closed-won.
Company Events: mostly closed-lost opportunities
Another interesting insight is the ratio of closed-won versus closed-lost opportunities. It seems that some channels deliver opportunities that consistently fail to convert to deals. Less than 20% of company events, lead lists, and partner referrals end up as closed-won. This is especially surprising — sales reps only open opportunities after they qualify leads. Still, even after qualification, it seems that these channels hardly produce opportunities with the potential to close.
Conclusion
In the complex B2B sales process, some channels deliver consistently better performance than others. The global winners are employee and customer referrals, company websites, and social. Outbound channels such as lead lists, company events, and email campaigns tend to have the lowest performance. It seems that closing a deal is as much about where the lead came from as it is about salesmanship.

About the Author: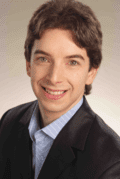 Gilad Raichshtain is the founder & CEO of Implisit. Intel recruited Gilad who, at 16 was their youngest engineer at the time. Concurrently, Gilad completed his computer engineering studies at Technion, Israel's Institute of Technology. After 6 years at Intel, Gilad joined the Israeli Prime Minister's Office and founded several startups. Gilad received his MBA from the Wharton School of Business, where he also managed Wharton Ventures. Additionally, as Genacast Ventures' investment team member, a Comcast partnership, Gilad supported several portfolio companies, three of which were later acquired—two by Google and one by Adobe.