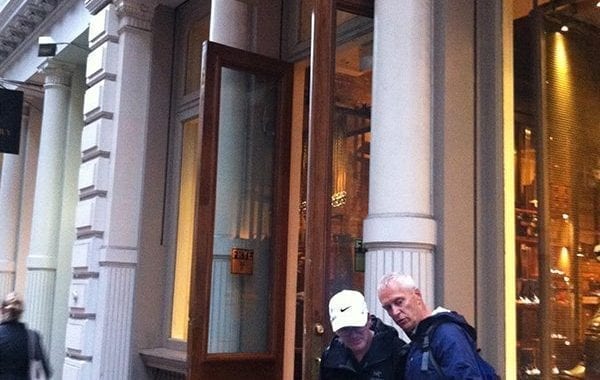 Kick Ass LEED Platinum Green Marketing
We compare NYC's Frye store with Lohre & Assoc.'s LEED Platinum Commercial Interiors
Yesterday we visited the Frye store in NYC's SoHo neighborhood. You might recognize Frye's heritage as a shoe and bootmaker, but today it's a lifestyle fashion brand. The Spring Street store serves as one of its flagship locations and this particular one earned LEED Platinum. The store manager didn't know much about the LEED certification (and the store doesn't point out its LEED status through graphics), so we enjoyed filling him in on what we saw and suspected. Both Lohre & Assoc. and Frye obtained LEED Platinum under v2009 so it's a direct comparison. Using credit sheets for each, we were able to quickly scan and compare the projects.
Here's what we found: Frye didn't have much control over the store's exterior (one of the neighborhood's iconic iron facades) or landscaping and heat island effect, so it didn't score any points for site selection — Lohre received 5 of 5. We both got all possible points for dense urban setting and alternative transportation.
How Frye managed 11 out of 11 for water reduction I'm not sure because I didn't go into the restrooms. Lohre received 6 points for 30% water use reduction from a 1992 baseline. Frye must have installed a waterless urinal in addition to low-flush toilets. We both got points for a low-flow shower to encourage bicycle use.
We both received maximum points for reducing lighting power density. Lohre's is .35 watts per square foot. In looking at Frye's light sources, they seemed too hot to be LED and many of them were incandescent. It's possible Frye may have claimed one type of light source, but another source actually made its way into the store. I didn't see any lamps I could specifically say were LED. The under shelf fluorescent appeared to be low-power T5s. To achieve the 5 out of 5 for Lohre, we used only LED and fluorescent. Frye got one point for lighting control versus Lohre's three. We have occupancy switches in every room, not the type of control you need in a store where lights need to be on during operating hours.
Frye earned 5 out of 10 points for high-efficiency HVAC. Lohre couldn't score any in this category because it was beyond the scope of the project. The HVAC was already installed in the space when we moved in and we didn't change it. Ours was a SEER 10 AC, we'd assume that Frye would be a SEER 16 (and higher) demonstrating quite an improvement over ASHRAE 2007 code standards. We both got the maximum points for using Energy Star electrical equipment for over 90% of plug loads. Also, we both recevied points for enhanced commissioning and paying for our own gas and electricity. Commissioning has demonstrated that it saves 15% in energy use. Lastly, both projects were granted 5 points for purchasing renewable electricity.
Regarding materials and resources, both projects signed 10-year leases which encourages less resources for moving and renovating. Lohre's project was able to retain all of the interior divisions in the space but Frye did not. Both projects received 2 points for limiting construction waste management. Lohre had zero waste — recycling minimal amounts of carpet and aluminum blind scraps.
Both projects received 2 points for material reuse. Lohre reused aluminum blinds (trimming them to fit). Frye may have received points for reusing architectural window frames (above) as room partitions. Frye wasn't able to reuse any furniture (though they incorporated antiques into the store's fixturing systems), but Lohre reused all furniture from its previous location. Frye managed to use twice as much recycled content percentage in its project as Lohre. Both received 2 points for sourcing materials from within 500 miles of the project. Neither project was able to incorporate rapidly renewable materials, like cork, into the projects. Lohre was granted 1 point for using wood harvested from non-clearcut forests.
In indoor environmental quality Lohre got the point for providing a CO2 sensor. Neither project increased fresh air by 30% but both got credit for protecting air quality during construction. Frye flushed the store out with fresh air before occupancy to receive 1 point. Both projects used adhesives, paints, flooring and composite wood that didn't contain excess Volatile Organic Compounds. Only Lohre provided walk-off mats and improved air filters. Then again, only Frye used low-VOC ceiling and wall systems. Both projects provided well-designed thermal comfort systems and verified with employee surveys. Lastly, Lohre was able to provide quality views to the outside, not likely for Frye's shotgun configuration.
In conclusion, both projects can be very proud of their achievements. Frye is considered the first LEED Platinum store in New York and Lohre & Assoc. the first LEED Platinum Marketing Communications firm in the world. The Frye store was first class and a premier quality product presentation. Just wish I'd gone ahead and purchased those $218 dress shoes!
I read "Cradle to Cradle: Remaking the Way We Make Things" by Michael Braungart and William McDonough on the flight back to Cincinnati and wonder about Frye's sustainable shoe manufacturing process. Lohre & Assoc. on the other hand could consider what it means to provide more sustainable marketing communications. At the end of the book, it provides insight for continuing education; practice what you preach and making it fun. If you consider shoes that don't degrade materials you wouldn't want to breathe, also consider marketing that doesn't encourage unnecessary consumption.
If you enjoyed this blog post you might want to learn more about our LEED documenation services.
---
Request your free guide to obtaining LEED Certification on your office, building or home.