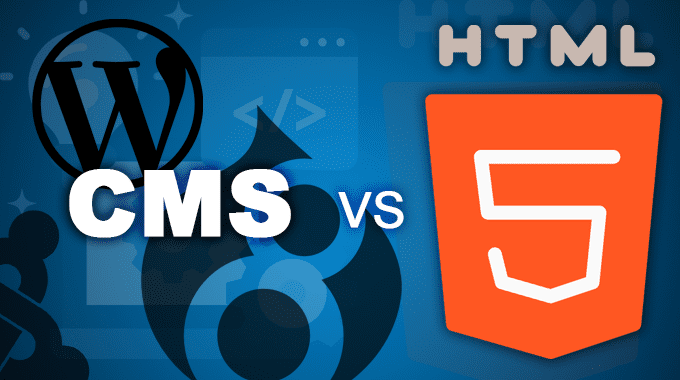 On the Increase in Hacking and the Beauty of Old Technology – Part Three
Why would a web developer advise against a CMS?
We say so because you might not need it, and could sometimes be better off without it. We have built many CMS websites, a lot, of all types, since as far back as 1996. Though it is something we're great at, we're not about selling anyone something they don't need.
Having a blog significantly increases your search presence and gives you a means to engage potential customers on your website and via social media, if you use it. If you do not plan to blog, you may put too much money into CMS development and you'll put a lot more into maintenance and repairs over the coming years.
Use a CMS if you plan to use your blog's marketing abilities, or if you want to regularly expand your website and search footprint. Otherwise, you might just need an HTML website with a web form.
For web forms, you could use a cheap/free SaaS solution like JotForm. If you would like to use submissions for marketing, there are many CRM solutions (Hubspot, Zoho, Salesforce, etc.) with great forms. These do not put your site at risk, are well-maintained, and come with the added benefit of a framework for opt-in and opt-out for CCPA and GDPR compliance (privacy laws you do not want to be on the wrong side of).
If a website without a CMS is a good fit, you could use that budget toward the website design and marketing the website.
With HTML5 and the right designer, you could have amazing, awe-inspiring web design like websites made in the 90's/early-2000's before all content needed to fit into a theme or template and be compatible with the next template. You might think dancing mailboxes and flashing text when you think of the late 90s – but we did some amazing, amazing designs back then. Before the limitations a CMS can impose, we could make a website look like a perfect brochure and had all the freedom in the World to create something breathtaking. Now we have much-better graphics and quicker internet.
Blogging is still the best for companies who want to spend the time and energy to place themselves as leaders in their industries. It allows a company to break free of paid advertising and enjoy the rewards of great organic search placement over bots clicking ads. On the opposite end, an empty or scarcely-used blog is just a security risk and a maintenance expense.
So, before you reach for that shiny new CMS, consider the beauty, stability, and security of plain old HTML. If you won't use your blog and won't have an online store, put that development money into hiring a brilliant designer who really gets your brand and your vision.
We'll be happy to assist you in either case, because this is what we do.