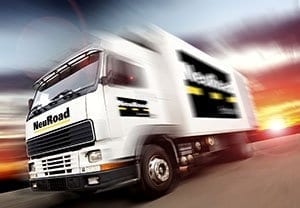 NeuRoad Patchmobile Quickly Fills, Packs and Rolls Pothole in a Single Operation
New instant pothole filling system operates at 30 mph
New technologies for pattern recognition, 3D analysis and 3D printing technology have allowed NeuRoad to develop an entirely new way to fill potholes quickly.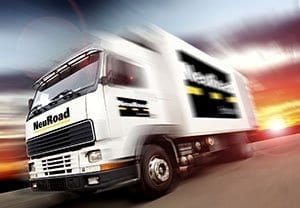 Using systems designed for process equipment assembly lines, NeuRoad's Pothole Patchmobile drives over the pothole, calculates volume, ejects the exact amount of asphalt patching material, packs and rolls the patch flat and uses ultraviolet hardening to instantly solidify the patch – the patched surface is then immediately ready for road traffic. The Patchmobile is a self-contained unit about the size of a standard tractor-trailer. Everything required to patch potholes is carried onboard and the unit can operate at about 30 mph.
Operation of the NeuRoad Patchmobile requires very little training. In fact, the driver just has to drive over the pothole and the Patchmobile does the rest. A series of 3D scanners in the front of the unit uses lasers to image the pothole. Powerful air blasts clean and dry the area to be filled. Rescanning calculates the precise volume of the pothole and injectors much like a printer head, prints the material into the potholes as the unit drives by at up to 45 feet per second. Rollers then contact the special asphalt material and level it to the road's surface. The final step in the process is the ultraviolet hardening that readies the patch for immediate use.
The entire operation only requires one operator. Daily operation requires filling the unit with the special NeuRoad asphalt material, which is similar in cost to other high-quality patch materials. The onboard electric generator and air compressor provide all the power needed for the NeuRoad Patchmobile. Municipalities will find this is a cost-effective way to quickly repair potholes as fast as the operator can drive over them. Approximately 10 miles of road can be repaired per onboard batch of NeuRoad asphalt patch.
About NeuRoad Industries, Inc.
NeuRoad Industries is a new company currently considering a Kickstarter Campaign to design and produce the first Pothole Patchmobiles. They can be reached at their marketing communications firm, Lohre & Associates, Inc., 126A West 14th St., 2nd Floor, Cincinnati, OH 45202; 513-961-1174. For more information contact Chuck Lohre [email protected].
---
 If you liked this post you may like, "Green Marketing? Make a die casting plant Net-Zero Everything!"