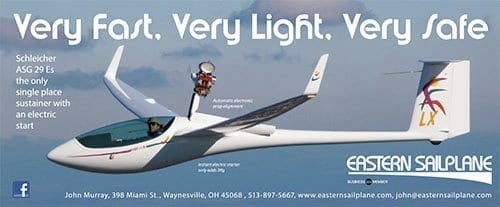 Very Fast. Very Light. Very Safe. Very Good.
May 29, 2016
Dear Chuck,
With my recent retirement, I have a little more time to reflect and felt the need to send you a "Thank You" letter. You have been doing my marketing/advertising for 15 years now. The type of ads I required were a little out of the ordinary. The combination of art and technology is always hard. For Schleicher sailplanes, First we sold expensive, exclusive recreational dreams, second we sold a level of technical sophistication for our aircraft of which Boeing would be jealous.  Combining the two is a certain balance which you understood right away. You "got it" very quickly. Thanks. I've enjoyed the great ads you have created for us as well as the articles about our principal, Alexander Schleicher Sailplanes. Especially the interview with their new designer, Michael Greiner. Your article was at the start of his career. Then he went went on to create one of the most successful sailplane designs in the history of soaring.
And thanks for talking us into the digital age. Who would have known that our 50 something demographic would enjoy staying in touch on Facebook. Your posts of Schleicher news as well as our articles in SOARING MAGAZINE made for great content that grew our community.
From aerial photography to trade show graphics; ads to social media we'll miss having fun with marketing. Retirement never comes easy and you hate to see your friends and customers get out of touch. But the soaring community always stays in touch and Linda and I look forward to future adventures with you and Janet.
Now one last plug about that new ASG 29, imagine your life is as long as a yard stick…..
Sincerely,
John Murray
Eastern Sailplane