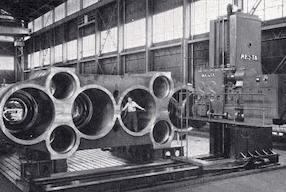 Metal Working Equipment Marketing Plan
To ThomasNet or not to ThomasNet, that is the question. Hmm, it means blogging to the rescue!
ThomasNet, or Thomas Register as it was called years ago, has become a Platinum Hubspot resaler. It's not much of a directory any more since they couldn't compete with Google.  They are a good blogger as a good Hubspot dealer should be. A directory program with ThomasNet runs at least several thousands of dollars to start, but like our advice for purchasing search engine ad words, "Don't do it until you have optimized your web site first." We've found that ThomasNet's directory is only good in certain industries that have adopted it as a platform to generate quotes. But even those are going away and Thomas' attempts to teach newbes is a losing attempt.
You'd think a "large machine shop" would be easy enough to get ranked for, but that's not the case. If metal working equipment marketing was easy, everyone would be doing it. The industry is quite sophisticated and run by those who have been operating computers longer than any of us. The second use of computers was to run a machine tool, the first was to calculate ballistic information for a canon.
ThomasNet wasn't such a problem several years ago, it kept its data secret from the search engines, plus it didn't have very many pages indexed. And the search engines wouldn't show their pages anyway. Then ThomasNet signed agreements with the search engines and they are ranking better. But Google is fundamentally against a directory since Google would rather serve the company's web site rather than a directory. ThomasNet is a very good media for increasing your page visitors. We have seen traffic double in several cases. And our studies show that visitors coming from ThomasNet are just as high quality as those coming from organic searches. If your site is fairly well written and has all the regular features of a good site, like fast loading speed, there may not be any other way to increase traffic. See the chart results on ThomasNet.com for yourself at Alexa.com.


But all of this wouldn't be needed if you just blogged a lot more. It's the gift that keeps on giving. Looking at the chart above, we added all of the client's technical bulletins in the middle and started bloggin three times a week in the last third. If your website traffic isn't growing like this, you aren't marketing using the internet to your advantage.
So if there is one take-away it's this — Program your site to measure goals. For industrial sites it's not a sale, it's going to be a contact us or a request for quotation page. Then you will be able to measure a tangible result of your industrial marketing efforts.
---
If you liked this post, you may like, "How To Realign Your Marketing Communications with Sales."