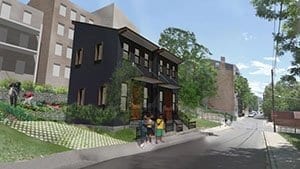 Would you pay $200,000 for this tiny house?, Green Building Marketing
By Tom Demeropolis Senior Staff ReporterCincinnati Business Courier, original article published Oct 23, 2015.
The developer of Cincinnati's first tiny houses is getting ready to start construction on the homes in Over-the-Rhine.
Brad Cooper, who launched Start Small Homes after he received a $100,000 grant from People's Liberty, expects construction to begin soon on the two small homes. Cooper's project explores tiny homes as a solution to affordable housing, working to create a market-rate solution for diversely affordable home ownership opportunities.
One of the homes will be sold at market rate, with a list price of $200,000. Going by the usable square footage, that's about $690 per square foot.
But Cooper said it's not fair to compare the tiny house's price on the traditional per-square-foot measurement since it requires all of the infrastructure of a full-sized house.
The other home will be sold to a low-income household rate. Cooper said he is still working out the details on pricing for that home.
Cooper, who is a trained architect, originally wanted to price the homes at $70,000 each. The homes also were originally designed to be smaller with a total of 200 square feet of living space. But he still says at $200,000, a buyer would be getting the tiny home at a good value.
During events held throughout the summer, about 75 people have showed up to learn more about the tiny houses.
Each two-story tiny home has a kitchen and living space on the first floor complete with a refrigerator, butcher block counter and cabinets, and the second floor has a bathroom and the bedroom.
People's Liberty, a philanthropic lab that invests directly in individuals, has helped Cooper through the process. Jake Hodesh, vice president of operations at People's Liberty, said they have been working to understand all the processes that go along with building a tiny house.
"We've learned alongside Brad what it means to build a tiny home," Hodesh said. "We're investing in projects that haven't been done before."
The homes, located at 142 and 144 Peete St., will have solar panels and are designed to take advantage of passive cooling. Cooper expects utilities to cost about $50 per month.
Cooper doesn't have additional sites for more tiny homes at this point, but he has learned ways to bring the prices down. By building more tiny houses at one time, as well as getting smaller lots or building multiple tiny homes on the same lot, he believes he would be able to bring prices down.
Demeropolis covers commercial real estate and development.