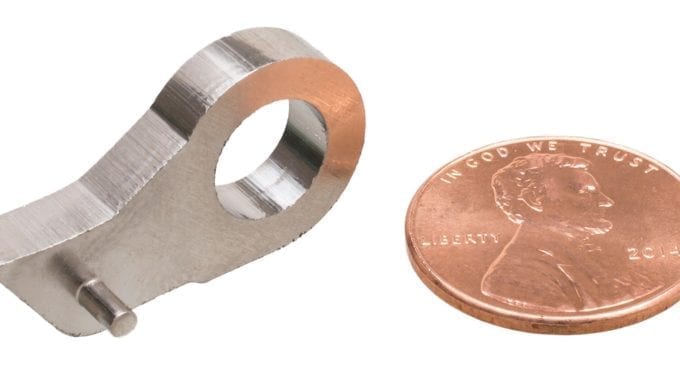 Fineblanking Breaks the 200-strokes-per-minute Barrier
FEINTOOL (Cincinnati, OH) introduces the XFT 1500speed Feinblanking Press. Never before has a fineblanking press been so fast, so versatile and above all so productive at up to 200 strokes per minute. "Our main goal was to take the advantages of fineblanking to a level of production that outstrips conventional blanking in terms of part quality, clean cut percentage and dimensional repeatability in sheet thicknesses of over two millimeters," states Markus Schaltegger, Feintool's head of Presses and Systems.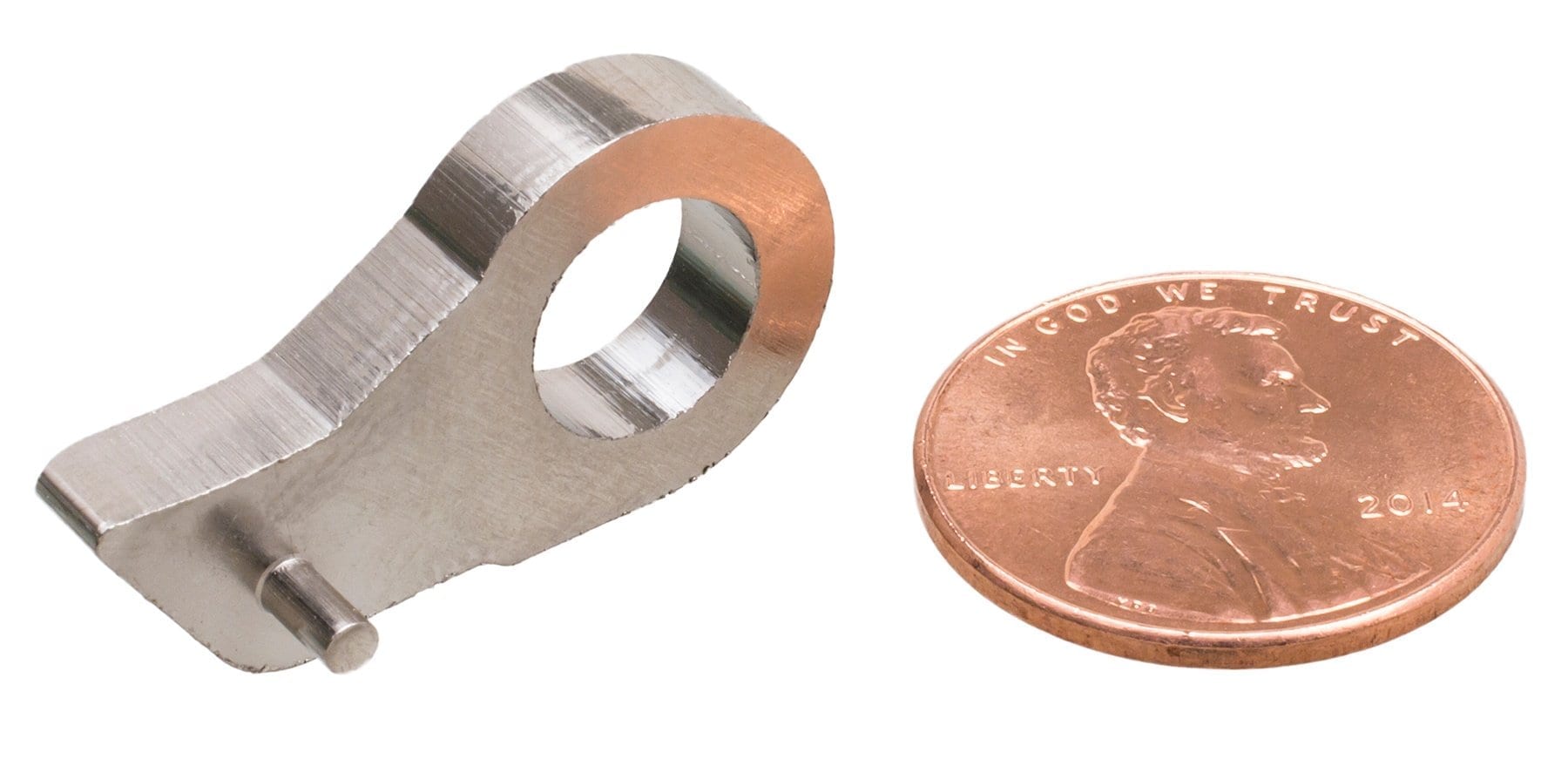 (Caption: Feintool 833A8287) This part would normally need to be stamped and then drilled. With the XFT 1500speed it was produced in one step at high stroke rates. Aerospace, medical and turbine engine parts are made on these machines because of high volume and extremely high tolerances.

The 1,500 kilonewtons XFT 1500speed replaces Feintool's GKP 100/160 and MFA 1600. It is compatible with existing tools and can double their output, but achieves its true potential when using high-speed tools developed specially for it. Manufacturing costs and investment costs per part are lower with less energy consumption and press maintenance. It's even capable of turning out small batch sizes economically.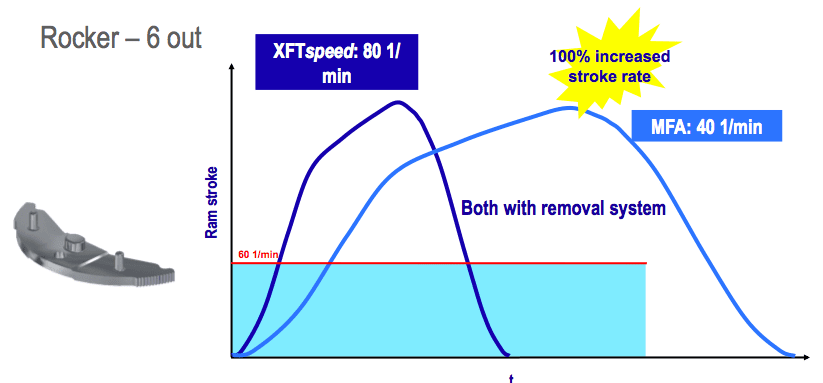 (Caption: Feintool Rocker – 6 out) Define movements such as acceleration, part removal and intermediate stops to an accuracy of two milliseconds.

Without a gearbox, the drive motor operates at 200 RPM versus 1,200 RPM. The servo motor has a much faster dynamic response and can be programmed with absolute precision. The Feintool Motion Control unit can define acceleration, part removal and intermediate stops to an accuracy of two milliseconds. "With stroke rates this high, it was clear to us that tool safety should have special priority," says Schaltegger, If a malfunction occurs, the XFT 1500speed only needs a braking distance of two millimeters."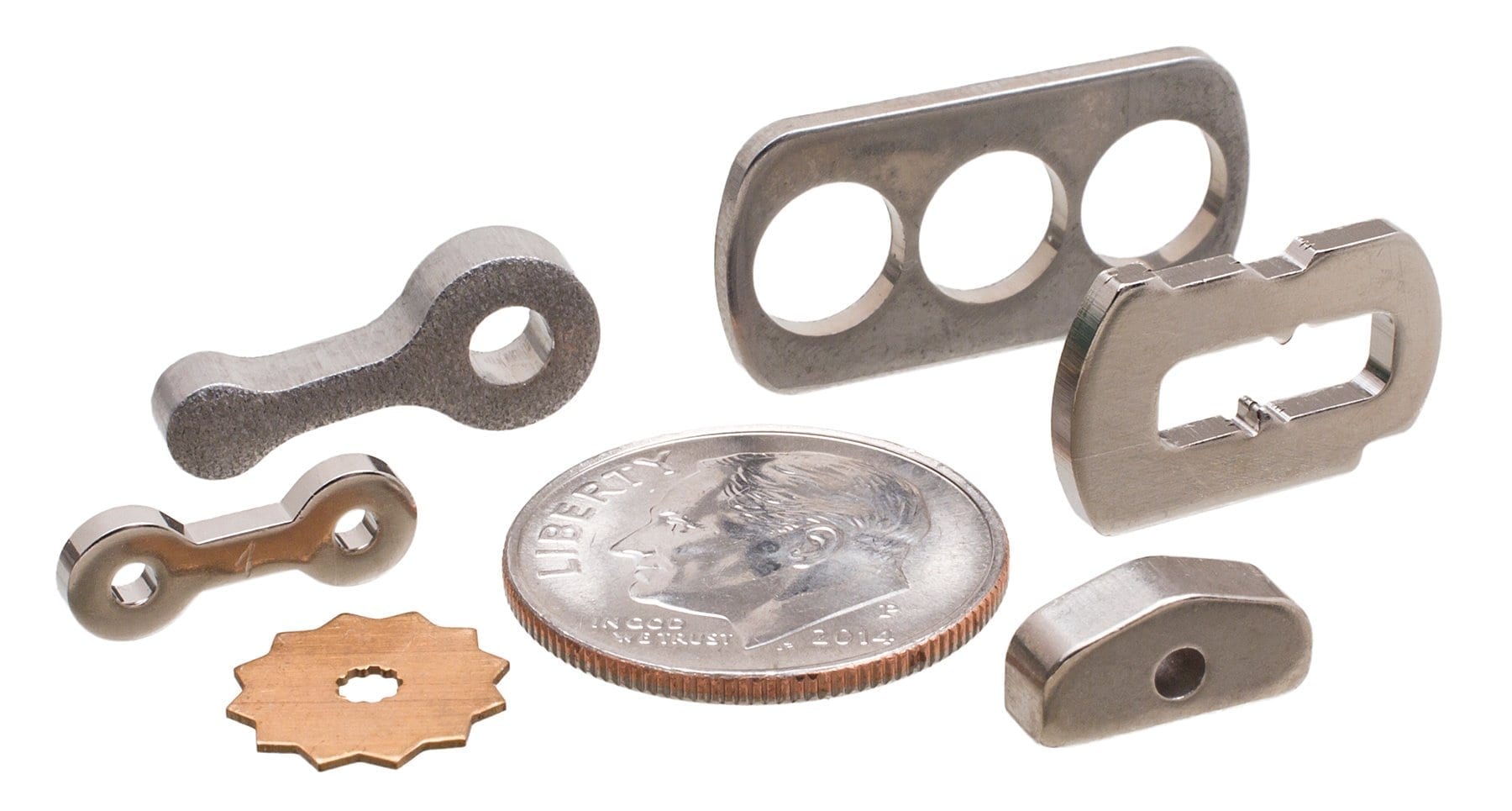 (Caption: Feintool 833A8473) Top row left to right: Arm vane for a turbocharger, 3.25 mm thick, 16 mm length, material X8CrNi25-21 / 700 N/mm2; Brown gun tube for electronics, 1.35 mm thick with scrap bridge of 0.6 mm, 22 mm length, material SUS 304L; Locking plate for lock technology, 1.5 mm thick, 15 mm length, material Ck45; lower right, Plunger for electronics, 3.0 mm thick, Hole ø1.8 mm, 10 mm length, material RFe80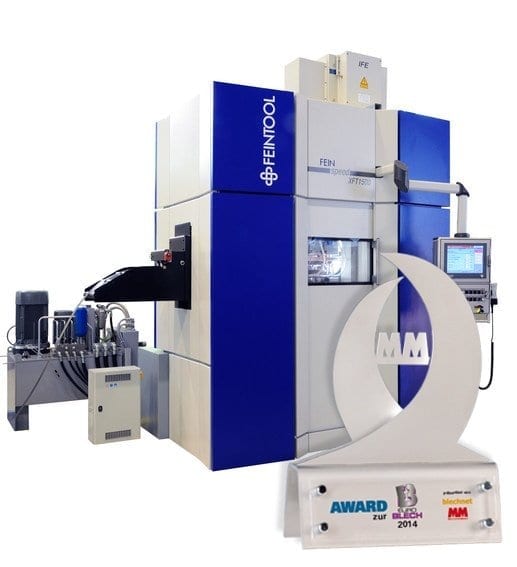 (Caption: XFT1500speed_Internet_01) Feintool wins Euroblech Award 2014 – On the first day of the Euroblech 2014 trade fair in Hanover, winners were presented with the Euroblech Award 2014 for their innovative achievements. In the 'blanking' category, Feintool won the award for the most innovative product with its new XFT 1500speed fineblanking press.

Fineblanking and forming are only superficially similar to conventional blanking or shearing processes. The difference is found in the precision of the process and the combination of fineblanking and forming, which opens up entirely new technical avenues in industrial series production and opportunities to maximize cost efficiency. Highly complex ready-to-install multifunctional parts can be produced economically with Feintool technology – and with crucial cost savings compared with conventional production methods.

Feintool is the world's leading technology group specializing in the development of fineblanking systems and the production of precision, ready-to-install fineblanked and formed components, notably for the automotive industry. With locations in Europe, Japan, China and the USA, the Feintool Group is represented in the world's major automotive markets. Headquartered in Lyss, Switzerland, the Group has a headcount of just under 2000.

For more from Feintool go to www.feintool.com, email [email protected], or phone 513-791-0066

###

Feintool Equipment Corp.
6833 Creek Road
Cincinnati, OH 45242
Tel. +1 (0) 513 791 00 66
Fax +1 (0) 513 791 15 89
[email protected]

http://www.feintool.com/en/products-services/fineblanking/technology.html
There is also an excellent animation on this page that shows the fineblanking process. It's the dual movement of both the inside and the outside of the die combined with high clamping forces that defines fineblanking.


Media Contact,
Chuck Lohre, [email protected], President, LEED AP
Lohre & Assoc., Inc., Marketing Communications, LEED Platinum Headquarters, http://www.lohre.com
126A West 14th Street, 2nd Floor, Cincinnati, OH 45202-7535
877-608-1736, 513-961-1174, Cell 513-260-9025, Fax 513-961-1192