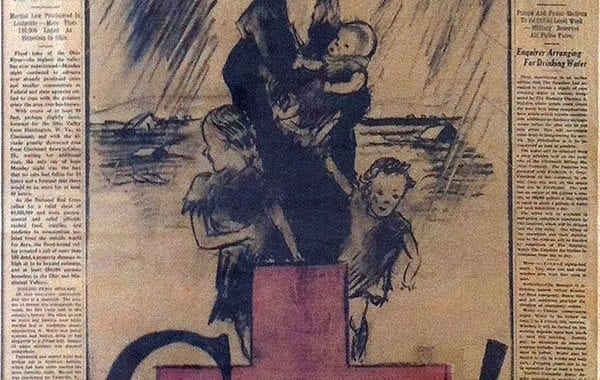 1937 Cincinnati Ohio River Flood Anniversary
Cincinnati Enquirer remembers the 1937 Flood.
"After unprecedented precipitation, the Ohio River in Cincinnati rose to its all-time high on Jan. 26, 1937. It was a natural disaster than spanned the entire length of the 981-mile-long river. Michael Nyerges." Read more.
One of the founders of our agency, Edmund Strauchen, did the above illustration for the Enquirer that day.
January 26, 1937 Cincinnati Ohio River Flood article
"River Near 80 Feet; Water Supply Low
Help Rushed
In Record Crisis
Rising Water Spread Through Ohio Valley
Refugee Total Leaps To 550,000 Mark
Red Cross Appeals For $4,000,000 "Chest"
Martial Law Proclaimed In Louisville – More Than 103,00 Listed As Homeless In Ohio
Flood tides of the Ohio River are the highest the valley has ever experienced – Monday night continued to advance over already paralyzed cities and smaller communities as Federal and state agencies rallied to cope with the greatest crisis the area ever has known
With crests of at least 80 feet; perhaps slightly more, forecast for the Ohio Valley from Huntington, W. Va., to Cincinnati, and with the already greatly distressed area from Cincinnati down to Cairo, Ill., waiting for additional rises, the only ray of hope Monday night was the fact that no rain had fallen for 24 hours and a forecast that there would be no more for at least 48 hours.