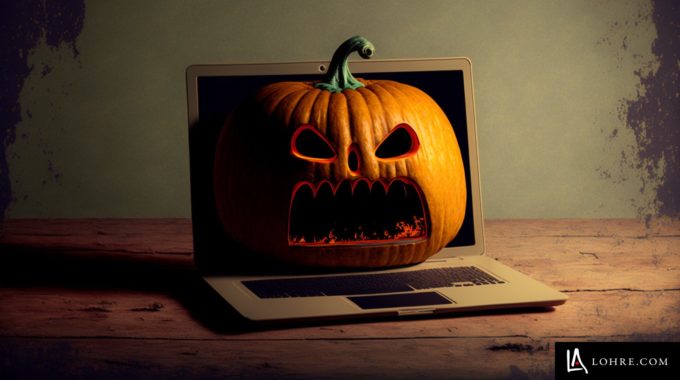 Don't be Spooked by Holiday Website Maintenance
If you are like many of our industrial clients, you'll be taking some or all of your vacation in the coming months as the holiday lull takes hold. Website maintenance while you're away might be on your mind.
Like many of our industrial web clients, you have a website to keep secure and stable for your company and website visitors, and the last thing you want is to get a call about a website outage or hijacking when you're trying to relax with family and friends.
If you are not taking a break, you might be trying to get all of your website content and web marketing in line for the coming year, making sure your industrial business is set to strike while the iron is hot. With that might come a website redesign, creation of landing pages, workflows, and marketing funnels, fresh content, and email campaigns.
Website design and website maintenance doesn't have to be scary.
Lohre & Associates can help bring your website up to date with the latest in design, security, and functionality. We can also get your website up to date with modern standards such as ADA compliance, GDPR compliance, CA Privacy compliance, and mobile friendliness, as well as the latest design & programming standards to make the search engines love your content.
We're specialists in industrial website maintenance and industrial website rescue
A large part of our web development business is saving websites that were not properly programmed, maintained, designed, or hosted. Because of this we excel at keeping the websites in our care secure, with regular updates and upgrades to software, and constant security and search presence monitoring, so that you can focus on bigger things.
Our system is set that we receive alerts if the appearance of your website changes, if your search presence sees any issues or drastic changes, or if internet bad actors are making attempts to hack or slow your website. We also receive regular notices when your website software or plugins need updating. We are checking these notifications regularly, and acting on issues, even on weekends and holidays.
We can keep your industrial website competitive over the holidays.
We can monitor your search presence against your biggest competitors – keyword by keyword, by day, week, or month so you know where your competition is beating you and what new keywords they are trying to win. If search or indexing issues arise with your website over the break, we can act on those too.
Try us out with a seasonal maintenance package for peace of mind over the coming holiday season.