Director Industrial Marketing
(What's on our plate, any given day. Just saw this matched our internet news stream and found it matches our day to day work. Enjoy. The ad came from a review we did of Chemical Processing's ads for Baxter Research. Heard recently that Emerson just let go a bunch of engineers. My friend retired just in time. From the looks of the ad, I'm sorry to see they are trying to sell Artificial Intelligence. They're better at selling Real Intelligence.)
| | |
| --- | --- |
| Director Industrial Marketing | Link |
| | |
| --- | --- |
| Job ID | EIA-00002511 |
| Emerson Company | ASCO Numatics |
| Country | United States |
| State/Province | New Jersey |
| City | Florham Park |
| Publish Start Date | Jan 13 2016 |
| Job Level | Supervisor / Manager |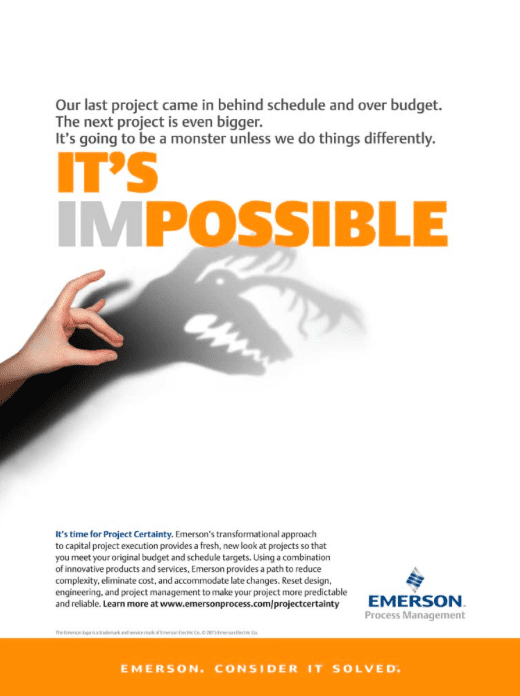 Develops & implement marketing strategy for ASCO Numatics products in select markets and associated segments. Main focus is US. Coordination across multiple functions to drive Industrial Marketing / Segment responsibility, along with supporting business development and other strategic projects.
Responsibilities:
Essential Functions/Percentage of Time Spent on Each:
1. Marketing Strategy: 20% 
· Identifies opportunities for profitable growth through market segmentation & research within Industrial Marketing (primarily in Industrial Machinery, Combustion, Dust Collection Systems).
· Creates product line architecture plan (roadmap) for platform products
· Prioritizes product line development programs
· Manages product and brand promotions
· Develops pricing strategies
2. Marketing Plan Tactical Implementation: 50%
· Identifies opportunities for new product development for a given market segment. Conducts market, product, competitor and customer research to determine unmet customer needs and translate into product requirements.
· Manages existing product line by compiling and analyzing internal and external data on customers, products, and competitors and making strategic and tactical decisions. (i.e. segmentation analysis, product life cycle analysis, etc )
· Actively collaborates with Engineering, Operations, and Sales teams from development through all phased of the development process cycle, and occasionally leads as Project Manager
· Visits regularly customers to gain insight into market needs
· Generates market campaigns and tracks effectiveness
· Creates pricing structure proposals
· Directs promotional activities including Sales and Marketing Launch Packages, trade shows, advertising, and literature
· Develops a network of contacts internally and at end users, OEM's and distributors.
3. Training and Sales Support: 30%
· Creates and conducts product and application training for target markets.
· Drives growth through the pursuit of new business using lead management, valve sales inquiry, and other processes
· Provides technical support to inside and outside sales groups as necessary
4. Other Functions:
· Introduces Asian and European products into the US and assisting in the promotion of US products abroad.
· Conducts ad hoc data analysis for sales/marketing
· Leads Strategic Projects based on Core business performance and required areas of focus for the business.
· MBA Required, Bachelors Degree in Engineering or Marketing/Business
· 5+ years experience in B2B marketing
· "Full Cycle" project management expertise (from conception through R & D, to manufacturing, to customer) needed for success in this role.
· Technical acumen.
Additional Company Information
About Emerson
Emerson is a global leader in bringing technology and engineering together to provide innovative solutions for customers in industrial, commercial, and consumer markets around the world. Founded in 1890 in St. Louis, Missouri (USA), Emerson delivers solutions through five business segments: Process Management, Industrial Automation, Network Power, Climate Technologies, and Commercial & Residential Solutions. With sales of $24.7B and more than 130,000 employees in over 150 countries, we have a customer-focused, results-driven culture where employee performance is recognized and rewarded.
ASCO Numatics offers comprehensive fluid automation solutions, including fluid control and fluid power products, for a wide range of industry-focused applications. From build materials to product designs, ASCO Numatics' deep process expertise and unmatched reputation for durability and reliability deliver lower cost of ownership, greater asset availability, and improved productivity for life sciences, power generation, biofuels, food and beverage, air ride suspension, petroleum and chemical, water and wastewater, pulp and paper, packaging, commercial appliance, and HVAC applications.
Equal Opportunity Employer 
Emerson is an Equal Opportunity/Affirmative Action employer. All qualified applicants will receive consideration for employment without regard to sex, race, color, religion, national origin, age, marital status, political affiliation, sexual orientation, gender identity, genetic information, disability or protected veteran status. We are committed to providing a workplace free of any discrimination or harassment.
If you have a disability and are having difficulty accessing or using this website to apply for a position, you can request help by calling 1-314-553-2544 (V/TTY/TDD) or by sending an email to[email protected].