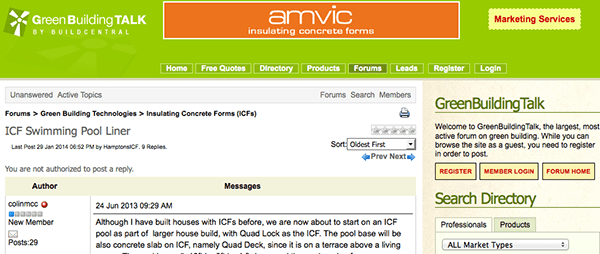 FAQ: What are the Best Industrial Marketing Social Media Sites?
There is no — or easy — answer to the title question. Each industry has its own (preferred) social media. For some, it's merely the professional association and its meetings. For others with indy pros scattered worldwide, it might be a forum. For still others, it's the ancient (tho time-honored) newsgroups. LinkedIn likely has the greatest concentration of industrial marketing social media groups than any other channel but like any group, it's only as good as the members of the group. In the following post, I'll review (the good, the bad and the ugly) the esoteric social media groups I belong to for business and pleasure.
1. GreenBuildingTalk is my number one favorite group of experts in the Green Building industry that participate in the insulated concrete form industry forum. These folks will answer just about any question a potential homeowner or professional might have in a matter of minutes. All of the industry experts, I know of, participate and are quick to chime in if the question matches their area of expertise. Check it out if you are considering building an extremely energy efficient home or office.
2. The second pick we started using back in the '90s to participate in the activities of machinists that use Computer Numerical Control to run their machine tools. This is a newsgroup and you will need a newsgroup server service (we use Newsgroup-Binaries.com), and a reader (we use Thunderbird). Newsgroups were internet pioneers and still the worldwide leader in internet communication. I'm not sure why we don't hear more about newsgroups in the popular media. One thing might be that along with the useful stuff there is also access to every weird, unusual and uncensored subject, passion or topic humans can think up. Subscription services may be required because your local internet service provider stopped serving some of them a decade ago.
3. Number three on our list is any local community list server. It's an instant way to get the word out to the community. This service is slowly going away and will be taken over by other social media platforms like Nextdoor, a neigborhood-based social media network that our community uses a lot including the city (posts from road maintenance and the local police district). Neighbors use it to let everyone know about scammers, for instance, or to report a lost of found pet. Still others use to ask for home repair advice or to offer freebies like no longer needed furniture.
4. Finally, we get to LinkedIn, the social media group for most professionals. I was inspired to write about this topic because of a post in B2B Marketing by Kestutis Gecason "What are the real B2B social networks in the world?" The only problem with LinkedIn is the ability to start an industry group. Google doesn't index the groups, so there is no way for individuals to find you. Not many users search the groups for relevant ones. You have to search out the users and invite them. And then nurture them in the group until you reach some critical mass.
5. Then Facebook, which isn't exactly an industrial social platform but it can be used as a company newsletter. One we like is managed by our client ILSCO. It contains local sports activities, personal milestones and company product news. They do a great job with it.
6. Twitter! Hubspot is all over this platform and offers amazing monitoring tools for marketers. It's an important way to stay on top of industry news. Industrial trade journal editors, legislators and corporate management follow Twitter hashtags. Another important use of Twitter is as trade shows. We're looking forward to staying up with all the activities at CONEXPO- CON/AGG show in Las Vegas next month. With 50,000 attendees and 2,500 exhibitors, it's a giant show and besides Twitter you can also use you GPS locator on your smart phone to help you navigate the show floor!
To conclude,  industrial marketing social media come in different forms for different industries. You must search out the ones that are appropriate to your industry. You'll have to personally search the newsgroups, LinkedIn and Facebook since they aren't indexed by search engines. The future of marketing is in nurturing and participating in internet social media sites. If there isn't a forum for your industry, now's the time to create one. It's a once-in-a-lifetime opportunity for your industrial marketing.
---
If you liked this post you might also like, "Why Blogging is the #1 Marketing Communication for Sales Leads."