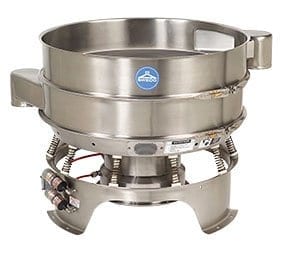 Barium Ore Processor Finds SWECO Separators Serve Dual Purpose, Process Equipment Marketing
A Northern California, USA, processor in operation since the mid-1920s, processes barium ore into various barium compounds. The mineral is obtained primarily from holdings in Nevada. The company set out to find a more efficient screening operation for barite ore, barium oxide and barium carbonate.
At that time conventional 3 ft. x 5 ft. rectangular screens were in operation. Two different models of the SWECO Vibrating Screen Separator are now in operation at the California Plant.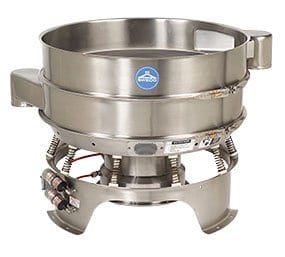 Using a 48" diameter SWECO Separator the company now screens barite ore weighing approximately 180 pounds per cubic foot at the rate of 10 tons per hour output at minus 10 mesh fraction. The separation is performed on a 6 mesh stainless steel wire cloth (opening of .1318 inches, 3360 microns) and a 10 mesh stainless steel cloth (opening of .0742 inches, 2000 microns). The desired product is taken at minus 10 mesh.
Barium oxide grinding material is fed through a SWECO single-deck unit at the rate of 2 tons per hour. The separation is made on a 40 mesh stainless steel cloth (opening of .0185 inches, 400 microns). The plus 40 mesh fraction is desired.
A single deck unit with dust cover is used to screen lamp black for consumption within the California Plant. A single deck SWECO Unit with 20 mesh stainless steel cloth (opening of .0340 inches, 841 microns) is used and the minus 20 mesh is the desired product used in a closed circuit with mill.
The SWECO Vibrating Screens Separator are gyratory in principle in that the material is tumbled around, across and vertically on a horizontal screen cloth. More than one cloth can be "decked" one above the other. The cloth is mounted especially on tension rings which in turn can be rotated 45 to 90 degrees at intervals. The company thus extends screen cloth life considerably.
See SWECO at the 2016 International Production & Processing Expo (IPPE), http://ippexpo.com/. January 26-28, 2016, Atlanta, GA, Booth 7948.
This post was originally posted in SWECO's LinkedIn Group, SWECO Screeners, Sifters and Separators, strictly an application forum for industrial screeners, sifters and separators. It has over fifty members from around the world. We promote membership with inexpensive LinkedIn ads directed to the over 8,000 LinkedIn members with job titles that fit our audience. Visit the group to learn more.