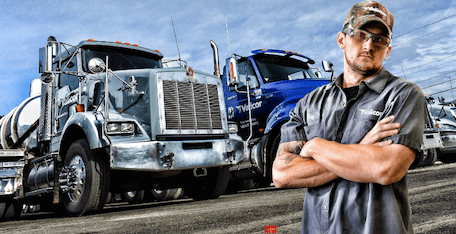 Win With PR Technical Articles – the Heart of Your Industrial Marketing Plan
How do you break through the clutter? Literally. That's our problem as we commence a new campaign for mining equipment. Here'a a peek behind the creative process.
Winners of the "Play Ball Raffle" are:
George Mahama, MUC
Dave DiPilla, JWK Technologies
Clark Noland, BarrelMover 5000
Duane Patnode, D-A Lubricant Company
Bill Ganger & Girish Dubey, Star Inc.
Dennis Zeiger, Polydeck Screen
Mark Strader, Phoenix
Rob Dietrich, Halma Holdings
Dan Grabowski
To claim your two tickets please leave a reply or contact Chuck Lohre, cell 513-260-9025, [email protected]. Thanks for playing. 

At first, we thought some great photography of their employees would stop everyone on the page. Photos of people are always effective in that respect. Even if the person's face is no larger than a postage stamp, eye-tracking software proves it makes viewers stop and look. But we're not the only creatives to note that — it's why there are (reliably) a dozen or so such ads in every industry pub. Testimonials from customers are better but don't hold your breath if your under deadline. Photo courtesy Art Dickinson Photography.
What are some other, stop-you-dead-in-your-tracks visual attention getters? Babies, dogs and scantily clad women tend to work for the roughneck set, but we don't care to go there. Recently we got involved in using Inventor and Light Wave to produce some 3D technical drawings of equipment. It inspired us to think about using the technology to use a cutaway of the machine and show how it operates. Then the question is: Does an overall picture of the machine tell the viewer instantly what the machine is good for? It's sort of like looking at a sports car versus a dumptruck. If you're selling either and the viewer is looking for that product, they will look at your ad. That's why a product line ad illustrating your product range, is normally a safe idea. Not particulary attention-getting, and actually very boring.
Thanks to Creative Commons for the photo.
So what about an extreme closeup? Showing the technical details of how the machine works? If so, how to make that interesting? There's a new smartphone app, Actable, that allows you to look at a two-dimensional page and up pops a 3D object. The app is programed to identify the photo and then serve the 3D image through your tablet or smartphone. The viewer can move the phone around the page and see the different angles of the 3D illustration. We think that this just might be the ticket to getting attention. Thanks to Powder Bulk Engineering magazine for the image on the left, which could be very entertaining to rotate and zoom in on. We particularly like including a person in the illustration. But a machine cutaway is not personal enough to persuade. To persuade you need to strike the problem nerve.
What problem are you solving? What problem does the viewer have? It may not be the operation of the machine. It may be in the choice of crusher. Thanks to Embracing My Journey for the photo.
And that's why we chose to create a series of educational articles for the aggregate and processing trade journals. Articles that describe in detail the benefits and features of the different types of size reduction crushers. The client offers all those types of machines and a basic "How To" article on cage mills, horizontal and vertical shaft impactors, hammer mills and fine grinders will serve as the foundation for marketing for years to come. See this article on Cage Mills which ran in "Pit & Quarry." Editor Darrren Constantino uses it as an example of how to write if you want to get published in P&Q. The next series of campaigns will focus on actual application testimonials.