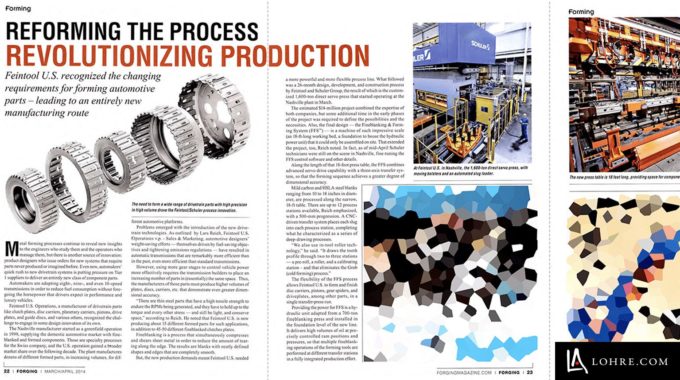 2018 Industrial Advertising & PR Plan
Featured Image (above) from Technical article in Forging Magazine shown alongside industrial advertising print ads

Good Technical Articles are Often More Valuable than Ads When it Comes to Industrial Advertising
We hear a lot about content marketing and social media (and we believe in it), but in the industrial marketing and industrial public relations world we have always been about content marketing when it comes to industrial advertising.
We cover the entire spectrum, from print ads to web development to social media – our public relations campaigns utilize all of the working parts to get very the best results.
The fact is that ads and PR have to work together. You have to pay for your free press. We typically have two or three key publications in each market that we schedule advertising in as well as supply them with technical articles. We then repurpose those articles into emails, webinars and videos. Rinse and repeat.
We cast a wider net for our PR placements but at least purchase listings in their Buyers' Guides and Directories. That also provides high-value web site links to our clients' home pages.
Some of our clients like print and some like online only but all pay a lot of attention to their industrial advertising & PR plan.

SKF Precision Technologies
"We retain Chuck on a monthly basis, under a fixed fee, to generate PR and keep Gilman in the news. The value of the PR we receive, is typically two to three times the investment we make in space advertising."

-Tom Klahorst
Vice President, Sales,
SKF Precision Technologies, a unit of SKF USA Inc.,
Grafton, Wisc. (Formerly Russell T. Gilman, Inc.)
SEEPEX INC.
"It is a pleasure to offer this recommendation for Lohre and Associates, a marketing consultant and media producer in southwestern Ohio. seepex, Inc. has used their services several times and has always been satisfied with the results.

They were used to adapt and place case history articles in trade publications and produce several high-quality graphic designs for use in a number of media, including print, web sites and electronic promotions.

Their experience with our industrial marketing publications, the technical language of the industry and personal relationships with the editors and publishers assisted us in receiving excellent placements and results. We are sure that you will be satisfied with the results that they produce.

Best regards,

– Michael L. Dillon
President, Seepex inc.