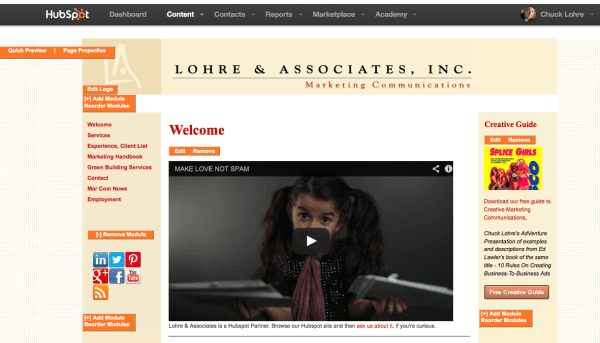 Hubspot: The Solution for No Time" Marketing Communications"
Overwhelming. If that's what marketing communications has become — help is on the way!
Gone are the days when a few publications covered your industry and only the accounting department had computers. Now the biggest change is smartphones, it's practically impossible for a company to afford programming for the small screen. There is a solution, Hubspot. Here's a list of the advantages:
Easy to Edit. Websites must be kept up to date. Content is the number one driver of marketing success
Defines Your Brand. Hubspot guides you through the keywords you need to promote and suggests content.
Focused Page Content. You'll learn every page has a purpose and a path to accomplish it.
Teaches You How to Blog. From keywords to tags and images, you can't fail.
Audience Love. Great content delivers great visitors and great customers. You'll never be accused of spamming.
Email That Gets Through. You'll learn how to navigate the filters.
Competitive Insight. They are your best teachers. Use them.
Trends and Suggestions. You would have to pay thousands for this customized advice.
Training, Training and Training. Every day, twice a day – it's easy and fun to interact with great professors and students.
Ready For The Future. You are automatically smartphone enabled. Poised for next steps!
Easy to Edit
It couldn't be easier to edit a website. It looks just like your site. You navigate it the same way. Click on the little orange boxes to edit. We have never seen a better interface. If a site is too hard to edit by the individuals responsible for the content, it becomes a dysfunctional bottleneck and a corporate embarassment. Just log in and edit, it's that easy.
Defines Your Brand
Your site should evolve as your product offering and as your brand evolves. As you consistently add content to every section of your site, you will update and advance your message and brand. That's marketing communications at its easiest and best.
Focused Page Content
Hubspot has a Page Performance checklist that's easy to follow and keeps your pages optimized for search engines, readability, simplicity and keeps you focused on that action you want the visitor to take!
Teaches You How To Blog
From title, images, length, meta tags, meta description and keywords, the Hubspot blog writing program is much more than a word-processing program. It matches your URL, internet address, page title and the headline of your blog for maximum search engine optimization. All automatically, just follow the suggestions and comments.
Audience Love
Hubspot helps you understand your visitors so you can give them the content they want. This "Green Marketing" blog post is the most popular on our site. It's a report on the foundry industry, combined with references to several other websites, that makes for a great post and one our visitors feel has value. Hubspot teaches you this and how to do it. Customers are always the best sources of content.
Email That Gets Through
30 percent of emails from most popular email programs get filtered out. Hubspot teaches you the high road of how to get personal opt-in email approvals. You will learn never to send an email someone didn't ask for or expect. One fundamental of "inbound marketing" is the customer drives the bus.
Competitive Insight
You'll know exactly how you compare to your competitors. Pardot has been doing marketing automation a lot longer than Lohre & Associates and it shows. They have 10 times the traffic rank, a hundred times as many pages indexed, and a thousand times as many sites that link to theirs. We're working on it. Like many companies with great sites, ours was under promoted. "Build it and they will come," doesn't work on the internet. You must share your content with your social media network. Hubspot makes it fast and easy to track.
Trends and Suggestions
Sure, Google Analytics is a great program to track trends and suggestions, but it's too difficult for a novice. Hubspot makes it easy by integrating your social media, blogs and site page traffic. With one click you can take action in a few minutes instead of falling asleep.
Training, Training and Training
Hubspot has the best training in the business. Every possible subject is covered with interactive webinars and your peers are in class. They will become your partners in marketing communications best practices along with up-to-date tools and techniques. And it's fun. No one will do anything unless it's fun.
Ready For The Future
To conclude with the reason we wrote this blog, if you don't optimize for smartphone viewing, your site would not keep pace with today's marketing communication trends. Hubspot does this automatically for all of your content across every possible smartphone configuration. That's a service you would have to pay thousands for. And you must have it.