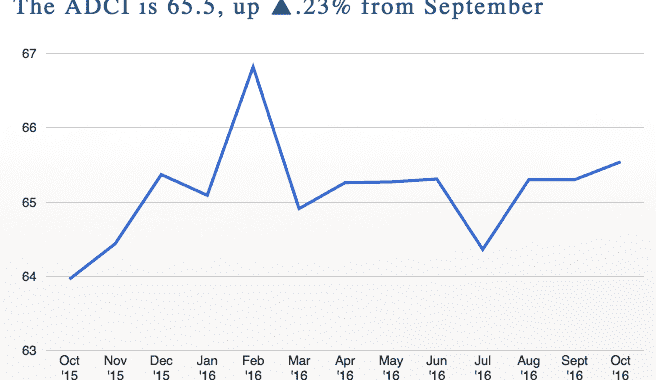 October 2016 American Dream Composite Index Report
(Lohre & Associates and O'Keeffe Public Relations helped launch the American Dream Composite Index and are happy to repost their reports here every chance we get. This index is exactly what it says it is, a measure of the degree that Americans think they have achieved the American Dream. Enjoy.)
What is the ADCI?
The American Dream Composite Index™ (ADCI) is a unique and robust measure of American sentiment that values the American Dream on a monthly basis.
The notion of the American Dream encompasses our behaviors, attitudes and satisfaction with economic conditions, personal well-being, societal and political institutions, cultural diversity, and the physical environment.
The ADCI reveals what people living in the United States do, strive for, work for, wish for, and ultimately, hope for as they assume multiple roles, including but not limited to, consumers, parents, children, students, employees, employers, parishioners, voters, etc.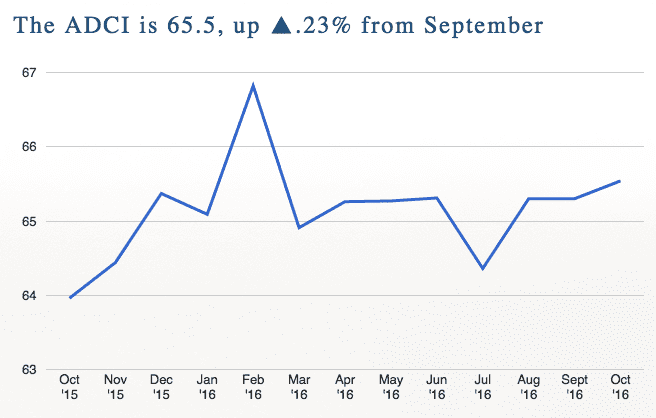 Composite Index
Is 65.54, up .23% from September. This is a small change driven by small changes to the sub-indices. The economic, well-being and environmental sub-indices are all up in October, the societal index is down, and the diversity index is flat.
Economic Index
Increased slightly to 64.49 in October, a .38% change compared to September. This increase is a result of increases to the dimensions of Job Environment, Job Benefits, Freedom of Choice and Destinations in Life. Home ownership had a significant decline in October and other constructs for the ADEI are mostly unchanged.
Well Being Index
Increased slightly to 70.77, a .49% change from September. This small increase is primarily the result of increases to the dimensions of Happiness, Leisure Activities, and the Support of Someone Special.
Societal Index
Decreased to 54.36, a change of .30% from September. This change is the result of decreases across the board in the ADSI, but primarily Trust in Business and Trust in Government. Safety in the Community is the only dimension to have a significant increase in October after the significant lows we observed for this dimension in September.
Diversity Index
Is mostly unchanged in October, changing only slightly up .13% from September to 73.86. Even though the ADDI is unchanged in October, the dimension of Melting Pot—Diversity is down slightly and Political Freedom is up slightly.
Environmental Index
Is up very slightly by .4% in October to 69.46.
Extra Insites from the October Index
This month, we asked a few extra questions with the ADCI survey related to the current political election season. A few insights are:
25% of millennial respondents say they get their political news primarily from social media compared to 16% for all other generations.
Over half of all survey takers say the person they would like to vote for is not running in the current election. This sentiment is most shared by those reporting to be of a conservative or moderate political identity. Only 40% of liberals said the same.
In spite of so many people saying they are unsatisfied by the current presidential offerings, 75% of all respondents say this is the most important presidential election of their lifetime.