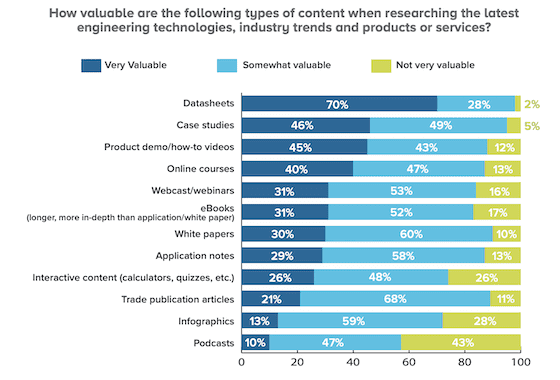 IEEE GlobalSpec and TREW Marketing 2019 Smart Marketing for Engineers Survey
Top 10 Findings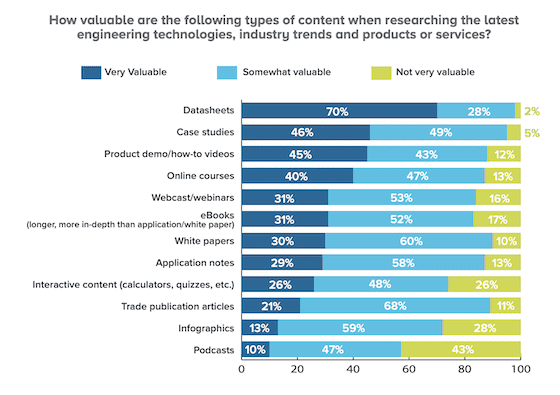 Engineers' preferred content types are datasheets, case studies, and product/how-to videos.
Engineers value online content sources most, primarily vendor websites and search engines.
Nearly 50 percent of engineers subscribe to two to three e-newsletters.
Over 90 percent of engineers surveyed are more likely to do business with companies that
regularly produce new and current content.
For the majority of engineers, a company's website has considerable impact on their brand
perceptions.
The four fields engineers are most likely to complete on a web form are work email address,
company, first name and last name.
Over 40 percent of engineers expect to be contacted within 24 hours after completing a form
on a vendor's website. Younger engineers have even higher expectations, with 82 percent
expecting to be contacted within 48 hours.
Nearly 60 percent of the buying process happens online for the majority of engineers.
During the buying process, engineers are doing many activities online, from early research to
vendor qualification and even narrowing down a short list of vendors for consideration.
Most engineers have three to four interactions with a vendor before communicating with them directly.
About IEEE GlobalSpec
IEEE GlobalSpec is a provider of data-driven industrial marketing solutions designed to help
companies promote their products and grow their businesses.
Our audience of engineers and technical professionals relies on the IEEE GlobalSpec family of
brands as a trusted resource for content, community and engagement at all stages of the research,
design and purchasing process.
We deliver deep industry intelligence, customized marketing programs and measurable campaign
performance.
For more information about IEEE GlobalSpec, visit www.globalspec.com/advertising.
About TREW Marketing
TREW Marketing, headquartered in Austin, Texas, is a full-service marketing firm uniquely serving
B2B companies in North America and Europe that target technical markets. With extensive research and deep experience in the embedded, control and automation, test and measurement, and technology industries, TREW Marketing provides full-service marketing services from strategic
marketing planning and brand positioning and messaging to content marketing, web redesign, and ongoing execution services that help customers efficiently and effectively achieve their business goals. For teams looking to do marketing in-house, TREW senior staff lead onsite marketing workshops customized to each company's specific needs. For more information about TREW Marketing go here https://www.trewmarketing.com/
To read the entire report go to https://www2.ieeeglobalspec.com/2019-smart-marketing-report